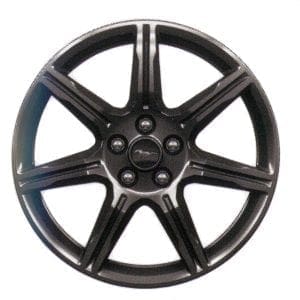 During the SEMA show in early November Steve Saleen, president and CEO of SMS Supercars announced the formation of a nationwide sales, distribution and installation network called SMS Superparts. On its own display area, SMS Superparts showed a virtually unmodified 2010 Ford Mustang with the new SMS 296 Supercharger under the hood, as well as a production version of the 2010 SMS 570X Challenger in Sour Grape Green. Center piece at the impressive display was the SMS 296 Supercharger.
"We are excited to launch our newest addition to the SMS Supercars family right here at SEMA, where it all happens. To have a strictly SMS Superparts display was a conscious choice on my part. I wanted to underline the importance of the aftermarket business, the passion of the enthusiasts and the true Steve Saleen fans. Right now, SMS Superparts is actively looking for installers around the country, who will be selling Mopar, Mustang and Camaro enthusiasts the SMS 296 Supercharger System and all other performance parts from SMS" says Saleen.
While the SMS 296 Supercharger System is standard on all SMS Signature Series Cars –the SMS 570 and 570X Challengers and SMS 460 and 460X Mustangs have been launched so far –, it can also be ordered as an aftermarket performance solution through SMS Superparts. Says the Head of SMS Superparts, Jon Clark: "SMS Superparts is your one-stop-shop for all your performance needs, starting with the awesome, patented SMS 296 Supercharger™ System, through the SMS S4 Suspension, wheel and tire packages, to aerodynamic body parts and our famous SMS Red Butterfly Induction hood. This way, every enthusiast out there with a 2008 or newer Dodge Challenger, a 2005 or newer Ford Mustang and – coming soon – a 2010 Chevrolet Camaro can personalize their car with genuine Steve Saleen designed and produced parts. Only SMS Superparts can rely on Steve's 30 year experience in racing, development and retail."
SMS Superparts plans that its nationwide network of retailers and qualified installers in the major markets will become the point of contact for customers purchasing performance components from SMS Superparts and having them installed. SMS 296 Supercharger™ Systems installed by Steve Saleen-qualified retailers will come with the full factory warranty from SMS Supercars.
While Mr. Saleen expects the SMS Superparts top seller to be the SMS 296 Supercharger™ System, he envisages that most of his fans will not stop there; "I see people fitting our SMS 296 Supercharger™ System to an existing Mustang or Challenger and coming to us for more. We offer high-performance suspension and brake systems, aerodynamically efficient body parts and our patented butterfly hood – which looks and performs great, – as well as smaller components that make each car unique. And for those of you whose partner has one of those cars – Christmas is just around the corner, and you can find everything on our website www.smssupercars.com/superparts.html", says Steve Saleen with a smile.
Photo Source: Drew Phillips @ AutoBlog.com