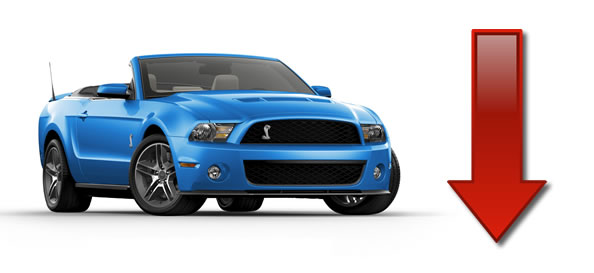 Ford has released September sales numbers for the Mustang and its another dismal showing as there were 1,948 fewer units sold in September than in August.  As we head into Winter the numbers usually never recover as the next five months are typically the worst in the car business as the weather and the holidays keep people and their money at bay.
Dealerships by now should be fully stocked with a wide variety of 2013 Mustang models so availability issues should not be a problem for sales.  With the completely redesigned 2015 Mustang looming I expect sales to stay flat until the next generation Mustang hits in 2014.
For a complete breakdown of September sales check below.
Sales of the Ford Mustang for September of 2012 were 4,439 compared to 5,054 from August of 2011 showing a 12.2% decrease in sales from the previous year. Year to date Mustang sales are 66,821 compared to 56,618 for 2011, which is a 18% increase over the previous year.
Month to Month sales of the Mustang were down sharply as August 2012 sales were 6,387 compared to September 2012 sales of 4,439 which is a 30% decrease.
Taking a look at the competition the Chevrolet Camaro sold 5,670 units and the Dodge Challenger sold 3,230 units for September.
Previous Months sales figures are below:
August 2012 – 6,387
July 2012 – 7,371
June 2012 – 10,263
May 2012 – 10,427
April 2012 – 7,801
March 2012 – 9,046
February 2012 – 7,351
January 2012 – 3,736
December 2011 – 5,057
November 2011 – 3,865
October 2011 – 4,898
September 2011 – 5,054
August 2011 – 5,718
July 2011 – 6,805
Source: Ford Motor Company