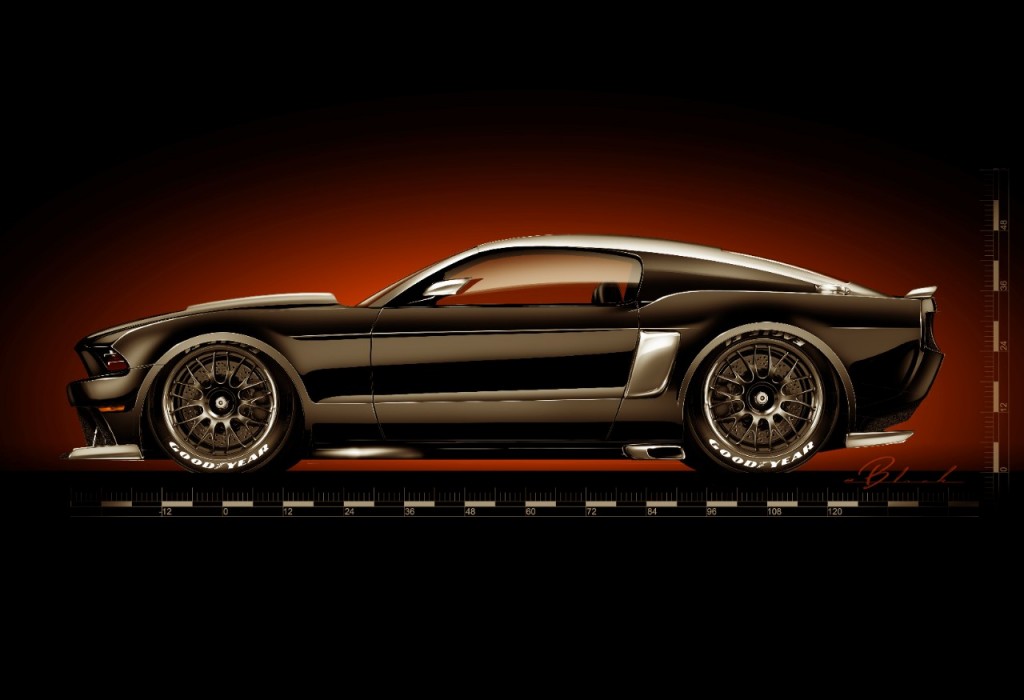 The folks at Hollywood Hot Rods have pulled out all the stops to create this one-off futuristic 2014 Mustang GT convertible for the 2013 SEMA show in Las Vegas.  Not only does this project Mustang look the part it has the go fast goodies to back it up.  Powering this amazing machine is a 750 horsepower 5.0-liter V8 engine sporting a Ford Racing Whipple supercharger with a Banks Straight-Shot Water-Methanol injection system.
"We really wanted to take the customization of this Mustang to the next level," said Troy Ladd, owner of Hollywood Hot Rods. "Instead of simply adding accessories and a custom paint job, we wanted to really change the car.
"So we decided to redesign some key elements of the car, like the roof and rear section; to create a completely new and bold design that propels Mustang into supercar status while retaining classic Mustang DNA."
More than 150 hours of went into reshaping the entire rear section of the Mustang project car in metal. Another 250 hours of hand-forming went into crafting the aluminum lift-off roof. All body modifications including the front splitter, side scoops, skirts and diffuser are custom fabricated in aluminum.
To keep this beast on the road a Cortex Racing X-treme grip track suspension system was bolted into place.
"We used extreme body modifications, serious race car handling, huge horsepower and a full custom interior to create an American supercar," added Ladd.
This Mustang along with several others can be viewed at the SEMA show in Las Vegas in Ford's display area.  Keep checking back for more photos.
Source: Ford