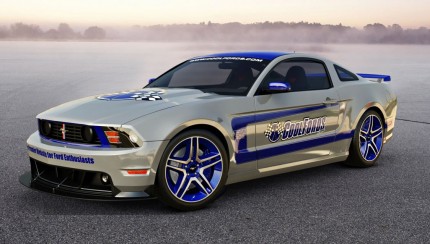 CoolFords.com, an enthusiast website dedicated to Ford cars and enthusiasts who drive them will debut thier first ever SEMA tribute car: a custom 2012 Ford Mustang Boss 302 Laguna Seca 3D rendering.  The project is a "What If" we had the money to build it car, how would we go about it and what would it look like.
To make this car a reality they enlisted the help of RPM-3D, a leader in 3D Motorsports Graphics to take their vision and make it a reality.
RPM-3D started with a 2012 Mustang Boss 302 Custom 3D Model from Arte3D and from there they designed the base BOSS 302 Laguna Seca scheme and took the CoolFords.com logo and colors and started rendering out ideas for approval as well as sample camera angles.
The 2012 Mustang BOSS 302 LS is a well known vehicle so they didn't feel the need to "Re-Invent" the car or the base scheme, but they wanted to provide a custom look specifically for CoolFords. Taking into account that if some day Ford Motor Company or some rich person decided to donate a brand new 2012 Boss 302 LS, then CoolFords may want to actually build this car. So if this dream ever came true they designed it in a way that would allow that to easily take place without too much extra expense or work on their end.
Check out all the 3D renderings below.