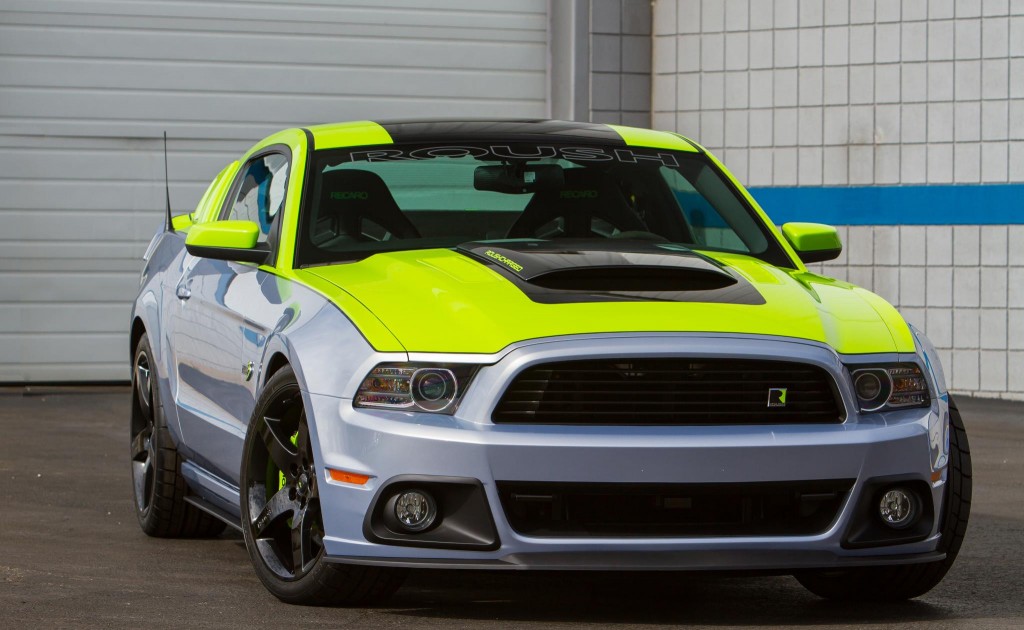 ROUSH Performance, Ford Racing and Sherwin-Williams Automotive Paints teamed up to produce an amazing 700 horsepower ROUSH Stage 3 Mustang with a custom paint scheme.
"This awesome Mustang features the hefty Ford Racing Aluminator Engine in concert with the ROUSH Phase 3 Supercharger Kit. This durable powertrain produces 700 horsepower and over 585 ft-lbs of torque. We are excited to announce that this engine package will be available as a ROUSH Stage 3 Mustang powertrain upgrade for our 2014 model year Mustangs,"says Tim Wheeler, VP Sales and Marketing at ROUSH Performance. "Our customer base has been hungry for a forged block configuration powered by our best ROUSH supercharger…and we think this engine package will blow away everyone's expectations."
The ROUSH Performance vehicle packages remain in place for the 2014 model year with the ROUSH Stage 1, Stage 2 or Stage 3 packages. ROUSH recently announced their line-up of Phased supercharger kits to provide consumers a choice when adding power to their Stage 3 Mustang.
"The ROUSH Stage 3 Mustang equipped with the 700 horsepower ROUSH Phase 3 Supercharger Kit and the Ford Racing Aluminator Engine represents the most powerful Mustang that ROUSH has ever produced," adds Wheeler.
This SEMA Roush Stage 3 Mustang displays a custom paint scheme by Sherwin-Williams Automotive Paints. The Sin City Silver and Luminescent Lime will turn a lot of heads during SEMA this week. ROUSH Performance Mustang and F150 Truck customers will also have the opportunity to upgrade with a custom Sherwin-Williams Paint Scheme beginning in early 2103 for their new vehicle. Look for more details and pricing from ROUSH Performance very soon.
This is a 2013 Mustang GT transformed into a ROUSH Stage 3 performance vehicle that is showcasing the 700HP Phase 3 ROUSHcharger Kit, as well as a variety of other retail part enhancements available from ROUSH Performance:
2013 ROUSH Stage 3 SEMA Mustang Build Specs:
ROUSH 5.0 Phase 3 supercharger – 700HP and 585 lb-ft of torque
Sherwin-Williams "Planet Color" custom Sin City Silver and Luminescent Lime paint scheme
Ford Racing Aluminator Motor showcasing forged internals allows ROUSH to dial-up the horsepower
Ford Racing X-Brace painted to match the exterior body colors
ROUSH 20" five spoke wheels painted in metallic black
Cooper Tires 20" RS3 tires
ESCORT Radar – Smart Mirror, Passport 9500ci, and Smart Cord
Eaton Truetrac locking rear differential
Recaro custom seats embroidered with the ROUSH Phase 3 logos
ROUSH Stage 3 Parts
ROUSH's R6 Aerobody kit
ROUSH Performance Exhaust
Hood Scoop
Quarter Window Louvers
ROUSH Suspension Kit with Wheel Hop Reduction Kit
Extreme Lowering Springs
ROUSH 6 Piston Brake System custom painted
LED Boost Gauge
Exclusive ROUSH Vent Pod
ROUSH Shifter Ball
Illuminated Sill Plates
Billet Performance Pedals
Stage 3 Interior Trim Package less seats
Suede Steering Wheel
ROUSH Hood Struts
Phase 3 Badges
Custom Coil Covers painted Luminescent Lime to match the paint scheme
Lower Grille
ROUSH Truck Mounted Tool Kit
Source: Roush Performance