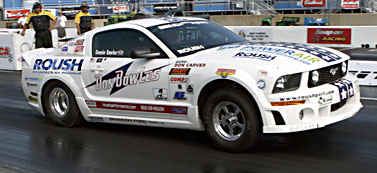 For the next season of NMRA competition Roush Performance will be building two propane-fueled Mustangs to compete.  The first one being developed is a 2005 Roush Stage 3 Mustang that will be driven by Donnie Bowles with testing going this month.  The second one is a 2010 Roush Stage 3 Mustang which will be driven by Susan Roush-McClenaghan, Jack Roush's daughter.  Both propane-fueled Mustangs will use a naturaly aspirated all-aluminum 5.4-liter V-8 that was originally designed for the Ford GT.
For more on these propane-fueled Mustangs check out the press release below.Press Release:
Jack Roush is highly recognized for generating horsepower and performance out of engines. Roush also has a long and successful motorsports history with the first of his numerous championships coming in drag racing. And today, Roush is finding great success in engineering, building and selling alternative fuel vehicles to the fleet markets.
So what do you get when you combine all three of these things? A pair of propane-fueled ROUSH® Mustang drag cars, ready to challenge for the NMRA championship next season.
The drag cars are an offshoot of the kits that ROUSH® Performance uses to convert gasoline-powered Ford pickups and vans to run on clean-burning propane. As a leader in the development of green technologies for the automotive industry, Roush sees several benefits in using propane as a "right here, right now" alternative fuel; he cites facts such as propane is the third most popular motor fuel (behind gasoline and diesel), and there are already more than 12 million propane-fueled vehicles on roads across the world.
On the topic of propane, Roush said, "It's as American as NASCAR. More than 90 percent of the propane used in the United States is produced in North America, much of it from the U.S. natural gas supply. Propane has so many positive aspects and it is finally getting the recognition it deserves as an alternative fuel. Propane can help to lessen our dependence on foreign oil. Propane can help to clean up our environment. And propane can help to create new 'Green Collar Jobs' for displaced auto workers who can return to the lines to build alternative fuel vehicles."
And as a green fuel, on average propane fleet vehicles reduce greenhouse gas emissions by 19 percent and create 20 percent fewer nitrogen oxides, up to 60 percent less carbon monoxide, and fewer particulate emissions, as compared to gasoline. From an economic standpoint, propane used as a motor fuel can be purchased for about one dollar per gallon with applicable federal incentives.
But, one advantage that propane has, especially in a drag racing application, is that it has an octane rating of 106 (premium unleaded is typically around 93 octane). The first car being developed is a 2005 ROUSH® Stage 3™ Mustang which will be driven by Donnie Bowles and expected to be testing in mid-November. The ROUSH® engineering team is also building a 2010 ROUSH® Stage 3™ Mustang for Susan Roush-McClenaghan which should debut in February. This is Roush's daughter who is adding the next chapters to her father's legendary history in drag racing.
McClenaghan finished third in the NMRA Modular Muscle class this year, with Bowles one place higher. In NMCA Open Comp competition, they switched positions with Bowles finishing the season in second and McClenaghan third so both are highly skilled pilots.
Both cars will use an all-aluminum 5.4L, V-8 Ford engine that was originally designed for the Ford GT supercar. This engine will be converted to be naturally-aspirated, the compression ratio will be altered to 12.5:1, and several other changes will be required to run on liquid propane. These include CNC ported cylinder heads, high performance camshaft and valvetrain, and a wet sump lubrication system. All these changes should help this engine generate in excess of 600 horsepower.
Despite popular misconceptions, propane is actually very safe to use as a motor fuel and has a significantly lower flammability than gasoline. It is also good in cool or hot weather making it ideal for motorsports applications.
Bowles car will be on display at the SEMA Show in Las Vegas from November 3-5. It can be seen outside at the Cruisin' Legends lot with the Ford Mustang corral.
Based in Livonia, Mich., "The Art of Performance Engineering" takes place at ROUSH Performance. To get a look behind the scenes at what goes on at ROUSH and how the vehicles are designed, manufactured and produced logon to www.ROUSHtv.com. For more information see your local ROUSH dealer, visit www.ROUSHperformance.com or telephone toll-free (800) 59-ROUSH. Follow us on Twitter @_ROUSH_ or Facebook at www.Facebook.com/roushperformance