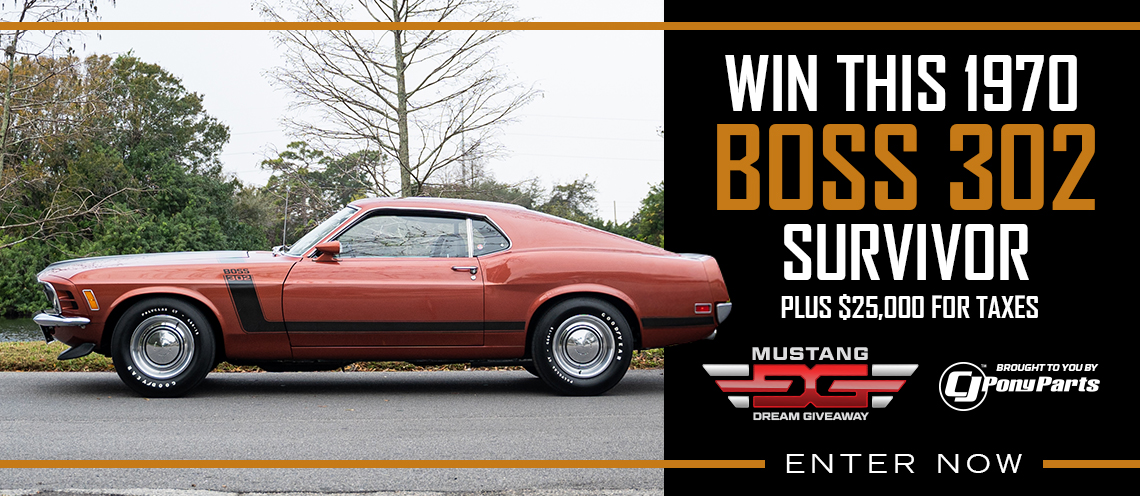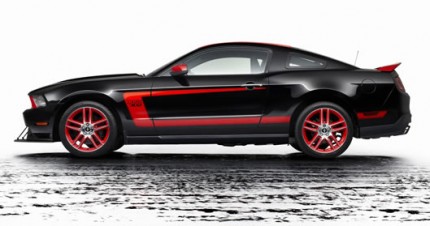 The 2012 Ford Mustang will be carry over vehicle from the 2011 model with a few additional changes including a price drop for one model.  The changes for 2012 will now include a reduction in price for the base Mustang GT by $500 resulting in an MSRP of $29,995.  Other changes for the 2012 Mustang include the addition of new color Lava Red Metallic and Competition Orange (Boss only).  Interior changes will include the addition of Sun Visors with multi purpose storage system and illuminated vanity mirrors, universal garage door opener on premium models and new Lava Red and stone leather interior colors.
New functional equipment changes include a selectable effort EPAS with three settings – comfort, normal and sport.  Also available for the first time is a reverse sensing system.
Check below for a complete breakdown by model including all available options.
2012 Ford Mustang Order Guide – 2012 Shelby GT500 Order Guide
2012 Mustang V6 pricing
Coupe Base $22,995
Coupe Premium $26,895
Convertible Base $27,995
Convertible Premium $31,895
Options:
Rapid Spec 101A =$295 (base only)
Rapid Spec 201A = $295 (premium only)
Rapid Spec 203A = $995 (premium only)
Rapid Spec 202A =$995 (premium only)
Reverse Sensing System & Security Package = $695
V6 Coupe Accessory Package 1 = $720 (premium only)
V6 Convertible Accessory Package 2 = $480 (premium only)
HID Headlamps and Security Package = $920 (premium only)
V6 Performance Package = $1,995
Electronics Package (premium only) = $2,340
Powercode Remote Start System =$345 (premium only)
3.31 ratio limited slip axle = $395
6-speed automatic transmission = $995
All weather floor mats = $85
Rear video camera = $385 (premium only)
Comfort Group = $595 (premium only)
Convertible Soft Boot = $160 (premium only)
Hood and side stripes = $395 (premium only)
Red Candy specialty paint = $395
Yellow Blaze Metallic Tri-Coat paint = $495
Glass roof = $1,995 (premium only)
2012 Mustang GT pricing
Base Coupe – $29,995
Coupe Premium – $33,895
Convertible Base – $34,995
Convertible Premium – $38,895
Options:
Rapid Spec 401A = $395 (premium only)
Rapid Spec 402A (California Special) = $1,995 (premium only)
GT Coupe Accessory Package 1 = $720 (premium only)
GT Convertible Accessory Package 2 = $480 (premium only)
GT Coupe/Convertible Accessory Package 4 = $750 (premium only)
GT Convertible Accessory Package 6 = $1,230 (premium only)
HID Headlamps & Security Package = $920 (premium only)
Reverse Sensing System & Security Package = $695 (base only)
GT Coupe Accessory Package 5 = $1,470 (premium only)
Brembo Brake Package = $1,695
Electronics Package = $2,340 (premium only)
PowerCode Remote Start System = $345 (premium only)
3.55 Ratio Limited Slip Axle = $395
3.73 Ratio Limited Slip Axle = $395
6-Speed Automatic Transmission = $995
All Weather Floor Mats = $85
Rear Video Camera = $385 (premium only)
Comfort Group = $595 (premium only)
Shaker 1000 Audio System = $1,295 (premium only)
GT Spoiler Delete = $0 (premium only)
California Special Car cover = $375 (premium only)
Hood & Side Stripes = $395 (premium only)
Red Candy Specialty Paint = $395
Yellow Blaze Metallic Tri-Coat Paint = $495
Over-the-Top Racing Stripe = $475 (premium only)
18″ Polished Aluminum Wheels = $495 (premium only)
19″ Bright Machined Aluminum wheels = $995 (premium only)
19″ Premium Painted Luster Nickel Aluminum Wheels = $995 (premium only)
Glass Roof = $1,995 (premium only)
2012 Mustang Boss 302 pricing

Base model -$40,995
Laguna Seca package – $47,990
Options:
Boss 302 Accessory Package = $475
Recaro Cloth Sport Seats & Torsen Differential = $1,995
Laguna Seca Package = $6,995
2012 Shelby GT500 pricing
Base Coupe -$49,495
Base Convertible – $54,495
Options:
Electronics Package = $2,340
SVT Performance Package = $3,995
Shaker 1000 Audio System = $1,295
Recaro Leather Sport Seats = $1,595
Full Vehicle Cover = $375
Glass Roof = $1,995
Source: MustangsDaily.com