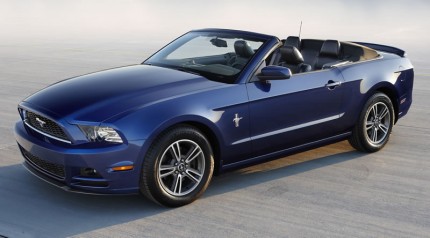 The official 2013 Mustang price list has been released by Ford for the V6, GT and Boss 302 models.  The entry level Mustang V6 buyer will be happy to know the price is staying the same for the base model at an MSRP of $22,995.  The Mustang V6 premium coupe and convertible models get bumped a c-note to $26,995 and $31,995 respectively.
Those who crave the power of the Mustang GT will have to pony up more dough in 2013 as prices for all models are going up.  The base Mustang GT coupe now carries a starting MSRP of $31,095 and the premium GT coupe comes in at $35,095.  The GT convertible base price starts at $36,095 and the premium model starts off at $40,095.  As for the Boss 302 and Laguna Seca models, they each receive a $2,000 price bump to $42,995 and $49,990 respectively.
Check below for a complete 2013 Mustang price breakdown including the options.
2013 Ford Mustang GT Pricing
2013 Mustang GT coupe base – $31,095
2013 Mustang GT coupe Premium – $35,095
2013 Mustang GT convertible base – $36,095
2013 Mustang GT convertible Premium – $40,095
2013 Ford Mustang V6 Pricing
2013 Mustang V6 base – $22,995
2013 Mustang V6 Premium – $26,995
2013 Mustang V6 convertible base – $27,995
2013 Mustang V6 convertible Premium – $31,995
2013 Ford Mustang Boss 302 Pricing
2013 Mustang Boss 302 – $42,995
2013 Mustang Boss 302 Laguna Seca – $49,990
**All prices include $795 Destination and Delivery charge
Option pricing for the 2013 Ford Mustang
6-Speed Automatic Transmission – $1,195
3.31, 3.55 and 3.73 Ratio Axle – $395
Recaro Sport Seats in leather or cloth – $1,595
Recaro Cloth Sport Seats & Torsen Differential for Boss 302 – $1,995
V6 Performance Package – $1,995
Glass Roof – $1,995
Reverse Sensing System & Security Package – $695
Comfort Group for Premium model only – $650
Convertible Soft Boot (V6 Premium Convertible) – $160
Electronics Package (NAV & DZATC) – $2,340
Rear Video Camera with Electronics Package – $240
Red Candy Specialty Paint – $395
Gotta Have It Green Metallic Tri-Coat Paint – $495
Brembo Brake Package for GT model only – $1,695
Mustang GT Track Package – $2,495
California Special Car Cover – $375
All Weather Floor Mats – $85
Boss 302 Accessory Package – $475
Shaker Pro Audio System – $1,295
PowerCode Remote Starter (Automatic only) – $475
Engine Block Heater – $35
View the entire 2013 Mustang Price List – .PDF format