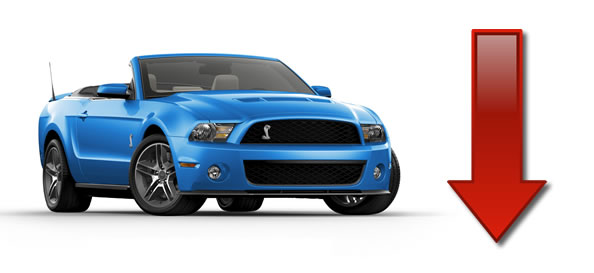 With the reveal of the 2015 Mustang we completely forgot to do our monthly post about Mustang sales. I know this is not the most exciting read on the planet so I will make it brief. Mustang sales dropped just over 1,500 units from the previous month of October but they somehow managed to beat out Chevrolet's Camaro and the Dodge Challenger.
As more and more folks catch a glimpse of the 2015 Mustang my guess is most will hold off on purchasing unless they have to have a Mustang. Expect Mustang sales to dip lower and flatten out until the all-new Mustang makes its way to dealers late in the Summer of 2014. Keep reading to see the complete breakdown of November Mustang sales.
Sales of the Ford Mustang for November of 2013 were 5,376 compared to 5,309 from November of 2012 showing a 1.3% increase in sales from the previous year. Year to date Mustang sales are 71,459 compared to 77,458 for 2013, which is a 7.7% decrease over the previous year.
Month to Month sales were off considerably as October 2013 sales were 6,918 compared to November 2013 sales of 5,376 which is a 22% decrease.
Taking a look at the competition, the Chevrolet Camaro sold 5,068 units and the Dodge Challenger sold 2,757 units for November.
Previous Months sales figures are below:
October 2013 – 6,918
September 2103 – 4,420
August 2013 – 5,866
July 2013 – 5,768
June 2013 – 9,243
May 2013 – 8,797
April 2013 – 7,751
March 2013 – 7,688
February 2013 – 6,024
January 2013 – 3,608
December 2012 – 5,537
November 2012 – 5,309
October 2012 – 5,328
September 2012 – 4,439
Source: [Ford Motor Company]