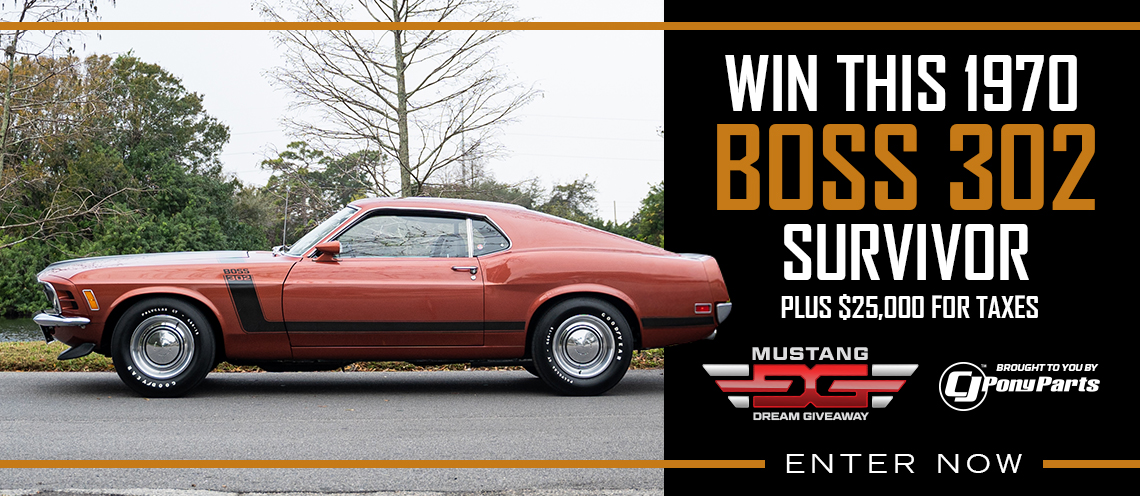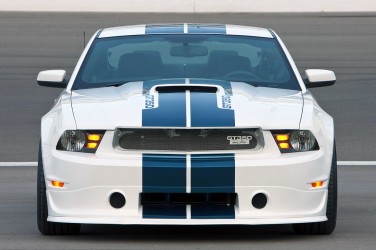 When the 2011 Shelby GT350 was announced and unveiled back in January as a post-title package from Shelby American rather than a factory built car from Ford many enthusiasts like myself were very disapointed.  This was the one car a lot of Mustang enthusiasts were hoping would be a mid-range performance Mustang between the base Mustang GT and the Shelby GT500. Unfortunately greed prevailed and Shelby American decided to offer the new 2011 Shelby GT350 as a post-title package with a supercharged 5.0-liter V-8 mated to a six-speed transmission pumping out 500 horsepower.
Now the announcement comes Shelby American will offer a Naturally Aspirated version of the 2011 Shelby GT350 with an option for an automatic transmission.  The NA version will be rated at 412 horsepower just like the base 2011 Mustang GT.
Read all about the naturally aspirated version of the 2011 Shelby GT350 below in the press release.
Press Release:
Shelby American, a wholly owned subsidiary of Carroll Shelby International Inc. (CSBI:PK) will expand the 2011 Shelby GT350 program to offer a normally aspirated version aimed at competition in Sports Car Club of America events and allow the street car to be ordered with an automatic transmission. The GT350 will be offered in both normally aspirated and supercharged versions as part of a post-title program through select dealers across the United States.
The normally aspirated version of the GT350 was driven by consumer demand. SCCA racing rules typically preclude a post-title added supercharger and the stresses of a forced induction are typically too much for an automatic transmission in a high performance car.
"When we brought back the GT350, people wanted to race it like they did with our Shelby GT," said Shelby American Founder Carroll Shelby. "Others asked for an automatic transmission. So we're dropping the supercharger, retuning the engine and adding an automatic. This gives people more choices with the GT350."
One of the goals for the Shelby GT350 is for it to be eligible for Sports Car Club of America racing, much like the 2007-2008 Shelby GT. Those piloting a Shelby GT dominated the top spots in both the women's and men's F stock class with Sam Strano capturing the national championship last year.
"The GT350 is a street car that is perfect for track day and solo racing activities," added John Luft, president of Shelby. "Beginning with the small block Ford Mustang GT, we worked with Ford Racing, Borla, Goodyear and Baer to create a car that should be competitive right out of the box."
The GT350 is an enthusiast's dream. It is powered by the 5.0 liter V8 coupled to a 6 speed transmission. The front calipers are Shelby 6-piston and 14″ rotors with ERADISPEED rotors on the back and cooling ducts for all four corners. The suspension features new Ford Racing springs, struts, sway bars and adjustable caster/camber plates. The Goodyear 19″ tires are a new, aggressive compound.
Each GT350 will be clad in traditional white with Shelby Guardsman blue Le Mans stripes. The car also receives a new front fascia, tail light trim, front splitter, rear deck lid filler panel and rear fascia. Functional scoops are located on the side rockers and hood. GT350 badges on the outside and inside include a Shelby serial number.
"We plan to have development finished and begin building normally aspirated versions of the GT350 by late summer," said Shelby American vice president of production Gary Davis. "This ensures that the car will be fully sorted and ready for fun on the street or track."
The Shelby GT350 is a post title program based on the new Ford Mustang GT. A customer purchases a car from a local Ford dealer, which is turned into a GT350 by the Shelby American Team. A limited number will be built in the 2011 model year. A Ford Mustang GT can be dropped shipped by a Ford dealer to Shelby's Las Vegas facility for conversion or a customer can arrange to have a properly specified car transported to the factory.
The price for the normally aspirated GT350 upfit package is $26,995.00 plus any options, not including the base Ford Mustang GT. The supercharged version of the GT350 post title package by Shelby American has a MSRP of $33,995 and does not include the price of the base car.
Customers interested in either a supercharged or normally aspirated GT350 should call (702) 942-7325 or log onto gt350.shelbyamerican.com.