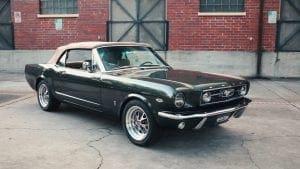 This post is several years overdue as I have always wanted to go back and chronicle all the Ford Mustangs I have owned over the years to share with my loyal readers.  For the record and no I am not bragging about my Mustang ownership but I am on my tenth Mustang with my current 2011 Mustang GT.  I have been a loyal Mustang enthusiast since my first ride back in 1993 when my buddy scared the crap out of me in his 1987 Mustang GT.  Who would have thought 18 years later I would still be driving a Mustang let alone writing about them.  Below I have chronicled all ten Mustangs with photos along with any mods I installed on them. Enjoy…
First Mustang: 1990 Mustang GT (White w/grey tweed interior ), Purchased this car with 44K miles and ran it up to 130K when the motor blew.  I replaced the motor and ended up selling it.  Mods were mostly audio systems and full exhaust. Only picture I could not find so its just a random pic, looks exactly like it.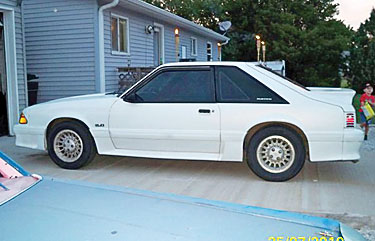 2nd Mustang: 1991 LX 5.0 Mustang coupe (Black w/grey tweed interior).  Purchased with 25K miles, was a salvage title but could not tell anything was ever damaged.  Sold it around 90K miles, no mechanical issues at any time.  Mods included pulleys, full exhaust, stereo system and shifter.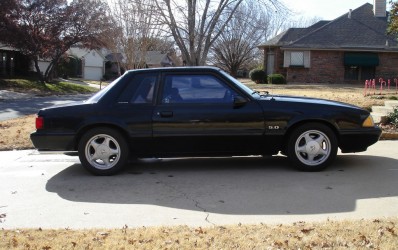 3rd Mustang: 1990 Mustang GT convertible (Reef Blue w/white leather and white top).  Bought this car with 100K on the clock but it looked and ran like a 20K car.  I put alot of money into this Mustang adding '93 Cobra Wheels, roll bar, Cobra Upper/Lower intake, stereo system, shifter, gears, pulleys, air intake, throttle body, control arms and strut tower brace. Car was stolen out of my driveway and recoverd a week later stripped and burned.  I can honestly say this was my favorite fox body Mustang.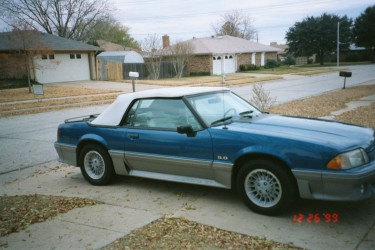 4th Mustang: 1997 SVT Cobra Mustang (Red w/black leather) Purhcased with 7K miles. Drove it for 2 years and sold it with about 45K miles.  Only mods on this one was full exhaust (headers, h-pipe and catback).
5th Mustang: 2001 SVT Cobra Mustang (White w/camel interior)  Bought with 200 miles on the odometer from a guy who purchased thinking it would be the last SVT Cobra built.  Ended up selling at 33K miles.  This Mustang was a project I wrote about on this site.  You can see all the mods in the Project Car section.  Mods included h-pipe, catback and misc exterior stuff.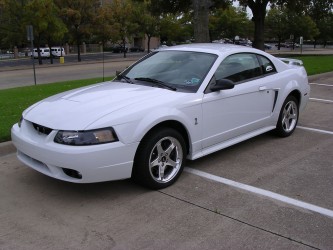 6th Mustang: 2003 SVT Cobra Convertible (Yellow w/dark interior and black top) Bought new at the end of 2004 for well under $30K.  Did not drive this Cobra all that much.  Car was amazing and is still my favorite out of all of them.  Mods included, Black FR500 wheels with Nitto tires and full Magnaflow exhaust.  Sold with around 11K miles after three years of ownership.
7th Mustang: 1992 LX 5.0 Convertible (Calypso Green w/white leather and top) Not sure why I bought this Mustang.  Could have been my stupidest purhcase of my life.  Car was rough and I ended up selling 6 months later for same as I bought it.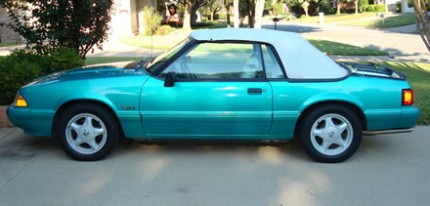 8th Mustang: 2007 Shelby GT (white w/black leather)  Purchased new in March of 2008 for $10K off MSRP.  Was a great handling car, best of all my Mustangs but the Shelby workmanship was horrible, stripes and hood scoop were replaced plus white paint from front and rear fascia did not match the body.  Sold this one after two years of ownership with only 9500 miles on it.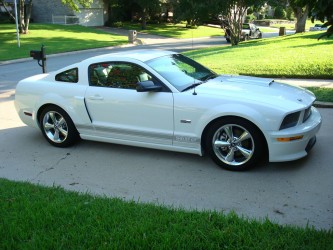 9th Mustang: 2009 Mustang GT coupe (Vapor Silver w/black interior) Purchased in 2010 with 1800 miles on the odometer.  Bought to have something to drive before the 2011 Mustang GT's came out.  No mods installed.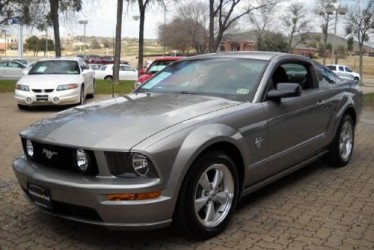 10th Mustang: 2011 Mustamg GT coupe (Yellow Blaze w/black cloth) Bought new, no mods yet…