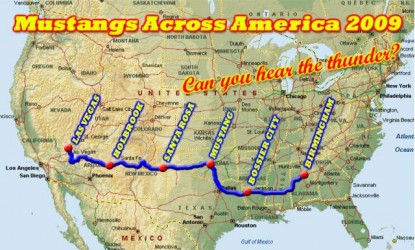 The folks who run the Mustangs Across America event are furious about the Mustang Club of America's decision to hold two simultaneous events for the 50th Anniversary of the Ford Mustang. MAA organizers disagreed so much so they have canceled any plans for a Mustang caravan across the country in April of 2014.   Sam Haymart of Mustangs Across America provided a statement to all Mustang fans and enthusiasts as to why they have canceled their plans for the 2014 drive across the country.  Read the statement below.
The Mustang Club of America (MCA) has announced they will hold two simultaneous events on April 17th, 2014 to celebrate the 50th Anniversary of the Mustang. One will be held in Las Vegas, NV, the other in Charlotte Motor Speedway.

The stated reasoning for this change of strategy over the 30th, 35th, 40th and 45th Anniversary celebration was that the MCA wanted more people to be able to attend.

While we understand this idea may be well intentioned we only see having two simultaneous and geographically located events as watering down the importance, size and gravity of the event. The unity that the previous single event has created to draw people from all over the world, and the United States to one place together is lost.

Because of this, the importance of the destination is lost and confused, making many in the international and national Mustang community forced to choose one over the other. The model of the Mustangs Across America drives is one that typically travels from one side of the country to the other, helping to promote the one big show and create the largest Mustang caravan ever with each Anniversary.

Because of MCA's decision to create two smaller and simultaneous events Mustangs Across America would be forced to choose one over the other, or create multiple drive events that would have much less unity and mission in their journeys.

It is because of this it has been decided that unless something changes in MCA's plans or anther option is found, there will not be a Mustangs Across America event for the Mustang 50th Anniversary. It was a regrettable decision but the choices MCA has made have made it impossible to rally the national and international audience for a singular goal of a continental journey to be part of their celebration.

Sam Haymart, President Mustangs Across America
Lets hope Sam and the folks at Mustangs Across America reconsider their stance and we have a caravan of Mustangs heading to one of the 50th Anniversary events.
Source: Mustangs Across America