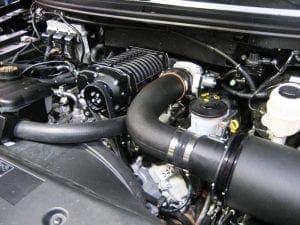 When Ford wanted to give a unique name to the new V6 Mustang Performance Package they turned to the most popular social network on the planet and it delivered with the name 'Mayhem'.  With over 1.4 million fans on its Ford Mustang page, some 3,000 submissions were made to its Facebook page.  The winning phrase 'Mayhem Mustang Package' was selected from a North Carolina resident who will receive a three-year lease on a 2012 Mustang V6 with the newly named 'Mayhem Mustang Package'.
The Mayhem package will feature unique badging, unique 19-inch wheels with Pirelli rubber, 3.31 rear gears and Mustang GT suspension along with Mustang GT braking components.  Read more about the new Mayhem Mustang Package below.
Press Release:
The Ford Mustang V6 Performance Package delivers on "fun, fast and affordable," and now it has an all-new name to go along with that. After Ford reached out to the nearly 1.4 million fans on the Mustang Facebook page, "Mayhem Mustang Package" has been chosen as the new name.
"We saw great enthusiasm from fans, with tons of creative, unique names coming in," said Brian McClary, Ford social and emerging media specialist. "The contest was twofold – it let us engage with fans by letting them have a say, and it helped build awareness for the package."
More than 3,000 submissions were made to the Mustang Facebook page and nearly 6,700 users installed the "You Name It" app that let them participate in the contest. The winning submission came from a fan in Charlotte, N.C., who has won a three-year lease on a 2012 Mustang equipped with the Mayhem Mustang Package.
Facebook fans were asked to suggest a name on the Facebook page and reach out to their friends in the social media world to help propel their choice into the top five names. A gallery on the page let visitors see all of the choices that could be voted on. After the five most-voted names were selected, Ford chose the name that best shows off the personality of the package.
Each finalist was run through trademark, copyright and brand approvals. The Mayhem Mustang Package will be used as the name on all Mustang sales, marketing and communications materials.
High-tech horsepower
The Mayhem Mustang Package takes advantage of Mustang's 305-horsepower all-aluminum Ti-VCT V6 engine's lightweight and high-revving nature to deliver a nimble performance car equally at home on a road course or road trip.
Borrowing from Mustang GT, the Mayhem Mustang Package includes numerous suspension, braking and body stiffening upgrades to deliver unparalleled handling performance. That road-holding is helped by a near-equal front/rear weight distribution, providing exceptional transient response along with the car's slimmed-down curb weight of less than 3,500 pounds.
The 2012 Ford Mayhem Mustang Package includes:
3.31 rear axle ratio for quicker off-the-line acceleration
Mustang GT coupe front and rear stabilizer bars
Mustang GT front struts and rear shocks/springs
Shelby GT500 rear lower control arm
Unique 19-inch wheels
Pirelli performance tires for improved grip
Mustang GT front and rear brake calipers with Performance Friction pads
Strut tower brace for increased body rigidity
Unique electronic stability control calibration with sport mode for performance driving
Unique badging
Source: Ford