Ford recently launched the edgy and athletic 2024 Ford Mustang. Sharing the stage is the ultimate expression of track capability which will also serve to build the foundation for Ford's motorsport efforts: the new Mustang Dark Horse.
The new Mustang Dark Horse builds on the athleticism, edgy design, and digital experience of the 2024 Mustang to deliver the most track-focused Mustang to date.
Mustang chief nameplate engineer Ed Krenz shared, "We've taken the all-new Mustang, the best of our new 5.0-litre V8 performance, and added power, improved the aero, tyres, steering and provided an interactive cockpit to create a Mustang that goes beyond any 5.0-litre Mustang before it."
Powering this track focused Mustang is the all-new Gen IV V8 engine. It was given new camshafts, unique Mustang Dark Horse tuning, and a dual throttle-body intake design that brings in twice as much fresh air into the engine for maximum performance.
As standard, the Mustang Dark Horse was given a unique six-speed TREMEC manual transmission with 3D-printed titanium shift ball which is exclusively available for this model. It also comes in a 10-speed automatic transmission with paddle shifters.
The Performance Package also comes as standard so that the Dark Horse has the "Track Sprint" capability requirements. This added capability was done through the auxiliary engine oil cooler, transmission oil cooler with automatic transmission, rear axle cooler, unique and lightweight radiator with greater heat soak rejection, and more powerful cooling fans for better endurance and recovery. For improved acceleration and cornering balance, they added a Torsen limited-slip differential to maximize the available traction.
It also includes unique chassis tuning, 19-inch Brembo front fixed-piston brakes with larger rotors, larger rear anti-roll bars and heavy duty front dampers, strut tower base, staggered fitting wheels with a 19 x 9-inch front and 19 x 9.5-inch rear wheels, rear K-brace, and Pirelli P Zero PZ4 tires. For maximum performance in road and track conditions, MagneRide ® active suspension also comes as standard.
One of the new technologies that the Dark Horse will be bringing to the track is the electronic drift brake which unlocks the rear-wheel drifting capability of the Mustang, with the visual appeal and functionality of the traditional, mechanical handbrake. Performance Electronic Parking Brake was engineered for both novice and expert drivers. Novice drivers will be able to learn and improve their drift skills while the expert drivers will be equipped with a competition-ready system.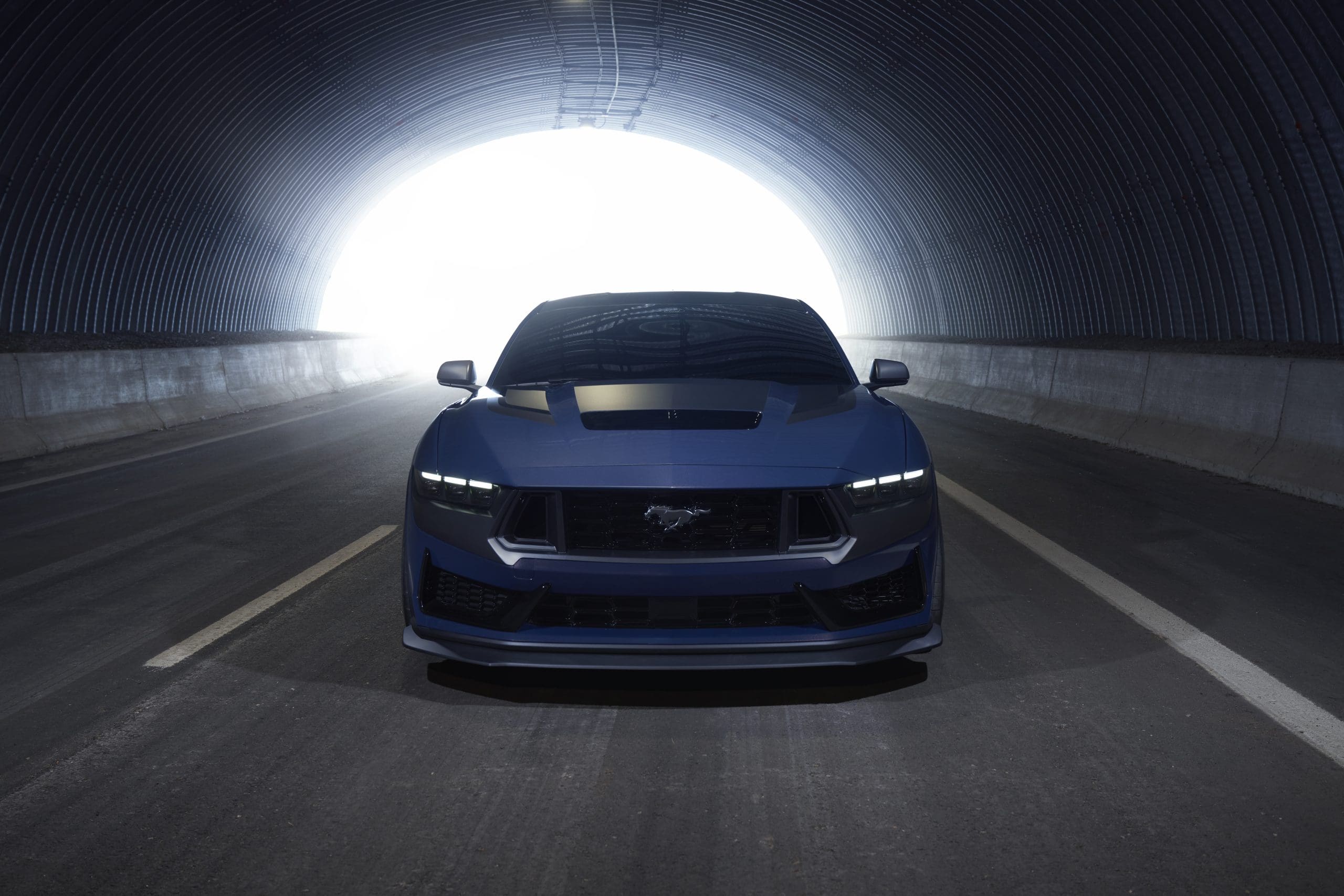 Visual upgrades are also noticeable in the Mustang Dark Horse, designed to increase track capability and to showcase it as the ultimate seventh-generation Mustang model.
Ford Design global director Joei Piaskowski stated, "It's more than a new name. Mustang Dark Horse brings a new design language to Mustang that is refined yet perfectly suited to its dual purpose of street and track performance. The visual changes, both inside and out, message that Mustang Dark Horse has a directed performance focus. The mechanical changes reinforce the purpose of Mustang Dark Horse, providing the driver with increased confidence and competence."
The darkened LED headlamps have bold shadow graphic around which compliments the unique gloss black grille with trapezoidal nostrils. The lower front bumper was redesigned with high gloss "fangs". Unique race-inspired diffuser, darkened quad exhaust tips, lower side skirts, and a fixed rear wing show the Dark Horse's track-focused design cues.
New Mustang Dark Horse logo replaced the traditional Mustang badges on the front wheel arches, tailgate, and door sills. A Dark Tarnish anodized version of the famous pony was placed on the front. Mustang Dark Horse badging was placed on the instrument panel and digital display screens instead of the traditional Mustang pony logo. Each car will have an individual chassis number.
"This is the first time for Mustang that we've ever had a forward-facing horse. It's aggressive, a bit sinister and it's coming from the shadows head-on to win," Piaskowski added.
Blue Ember metallic paint finish is solely for the Mustang Dark Horse. It is a cool, dark shade that has a warm glow when hit by light, showcasing the car's purposeful look. Customers can pick between applied or painted feature graphics along the roof and the hood, and they're also available in a variety of colors and styles. There is also an optional Appearance Package which offers dark Notorious Blue Brembo brake calipers with a brighter Grabber Blue logo.
One of the main features of the interior is the thicker, flat-bottomed steering wheel with an anodized silver paddle shifters and a dedicated drive mode button. It has a unique Blue accent stitching with a performance suede inner lining. The steering wheel frames a 12.4-inch digital instrument cluster with customizable screens, and Drive mode-dependent clusters.
Contrasting blue stitching can be seen on the gear shift gaiter, door panels and seals, and the center console which brightens the ambiance of the cabin. Another feature of the Appearance Pack are the Deep Indigo Blue seats with a unique seat perforation that is hinting of the blue below the surface.
A Black Alley finish – a dark metallic gloss that will replace the familiar bright silver shades that can be seen in other Mustangs trim levels – can be seen on interior trim, vents, and bezels. Cars fitted with a six-speed TREMEC manual transmission will have an anodized blue titanium gear shifter which have been cored out to stop it from retaining heat.
It will also have the latest B&O sound system, which produces crisp audio through 12 speakers and a subwoofer.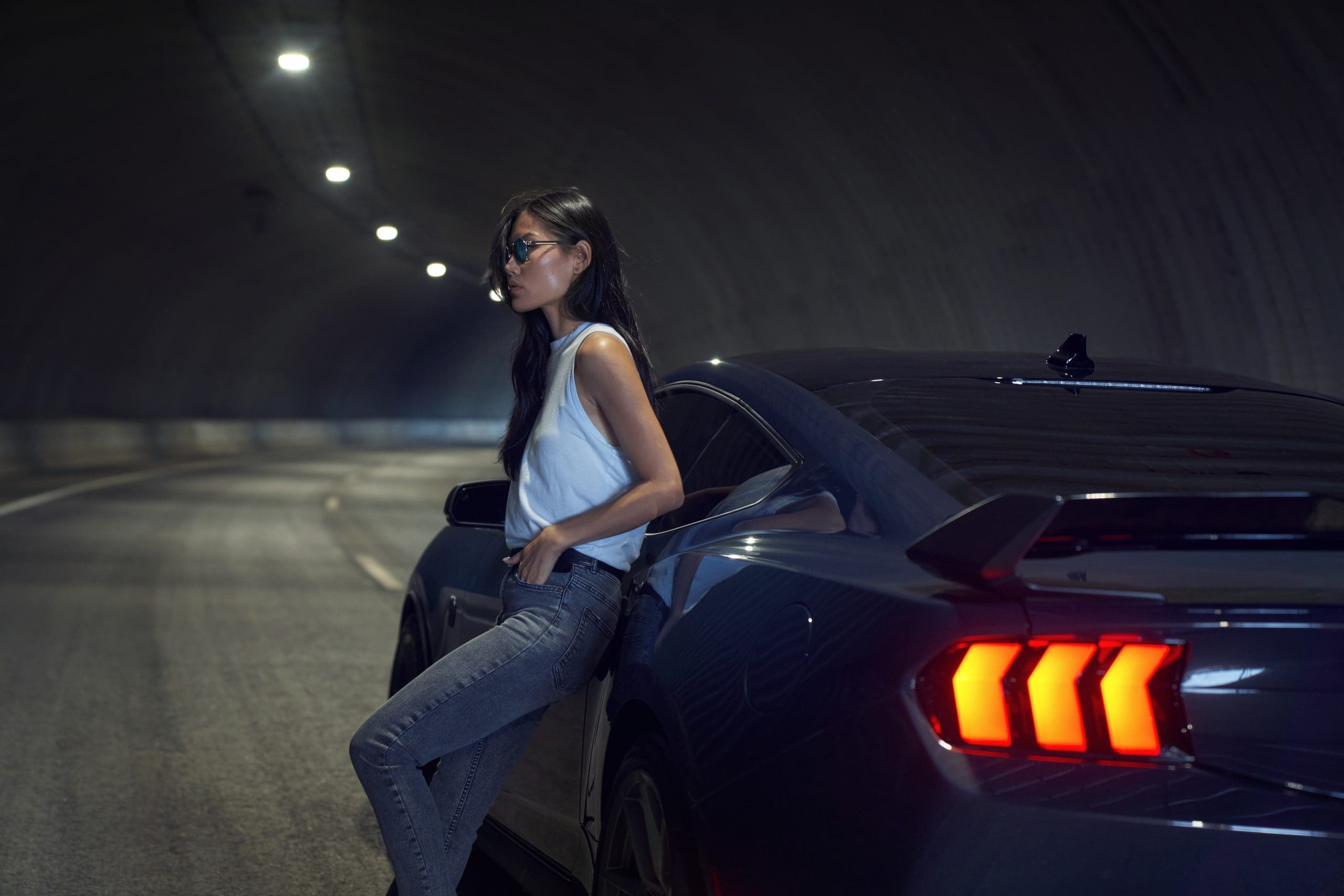 Mustang Dark Horse Leads Return to Global Motorsport
The launch of the Mustang Dark Horse completes the groundwork for future Mustangs that will be raced competitively in the global scene for a number of series like the GT3, GT4, and NASCAR.
Ford Performance Motorsports global director Mark Rushbrook shared, "We're taking this all-new Mustang to competition racing and the very definition of a Mustang Dark Horse is the perfect fit to introduce this vehicle to the Mustang brand. With our race program development underway, we're confident we have the right car for success."
Mustang Dark Horse S is a stripped-down version of the street-legal production vehicle built specifically for motorsports. Bared of all non-essential parts and trim pieces, it is then equipped with a full FIA-certified safety cage, race seats with safety belts, safety nets, and race steering wheel with quick disconnect. Other safety items added is the fire suppression system and electrical disconnects.
With the all-new Mustang GT3 race car, this marks the return of factory backed GT3 racing and starting with the 24 Hours of Daytona in 2024, it will also be available for customers. Powered by a 5.4-liter V8 engine, Ford Performance and Multimatic has created a Mustang that will deliver the full endurance racing potential and it will be available for customers all over the world.
There will also be a new Mustang GT4 that will make its debut in the 2023 season and it will be available for customers. The new GT4 is available for global GT4 classes in SRO, IMSA, and FIA GT. Next season, another new version of the Mustang will also be making its debut in the Australian Supercars series. In the coming years, the NASCAR cup series and the NHRA Factory X racing will also be the venue for the debut of newly designed models.