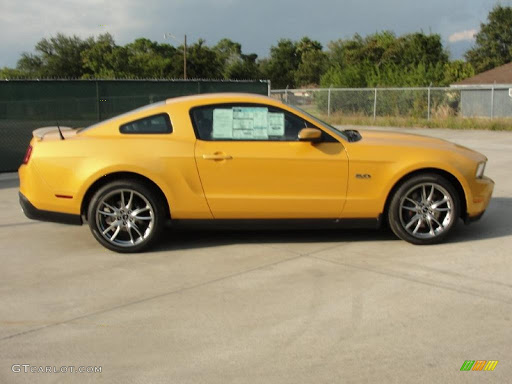 Microsoft and custom car builder West Coast Customs teamed up to build 'Project Detroit', a sinister looking one-off Ford Mustang that showcases what developers can do with Windows, Windows Phone, Windows Azure, Xbox, Kinect and Bing.  The 'Project Detroit' Mustang will be featured on an upcoming episode of Inside West Coast Customs this Sunday March 25th at 9 p.m. eastern.
The vehicle started life as a 2012 Mustang GT and was soon mated with the shell from a Dynacorn 1967 Mustang Fastback.  Basically WCC cut the body off of the 2012 Mustang GT and added the 1967 Mustang shell on top.  All the suspension, engine, transmission and interior remains from the 2012 Mustang.  WCC than painted the Mustang matte black and added blue neon lights all around even on the wheels.
On the inside is where Microsoft and WCC went nuts adding just about every Microsoft consumer product available.  The Mustang features built in Wi-Fi, a heads up display with augmented reality in the windshield, Kinect sensors behind the front grille and rear taillights, a Windows 8-powered touchscreen digital instrument cluster.  Other technology integrated withing the Mustang includes Ford's SYNC, an Xbox 360 and a rear windshield projector screen.
Not to be left out, a Windows Phone has the capabilities to locate, unlock and start the car from the Viper SmartStart app.  Whats even more amazing is the live video feed coming from the exterior cameras which you can view on your Windows powered Phone.  Also the Windows Phone has the option to broadcast your voice to the outside of the car via an App to scare off any unwanted visitors.
"We believe coding should be fun," said Jeff Sandquist, senior director of developer relations at Microsoft, who worked with West Coast Customs on the project. "We're about developer evangelism and telling developers what they can do with the Microsoft platform."
After the episode of Inside West Coast Customs airs on Sunday Microsoft will make available the group's programming code.  They will also spill the beans on how developers can create their own car appications via the Channel 9 developer website.
Microsoft plans to take this Mustang on the road to various trade shows with the first one being TechEd North America in Orlando, Florida sometime in June.
Source: CNET.com