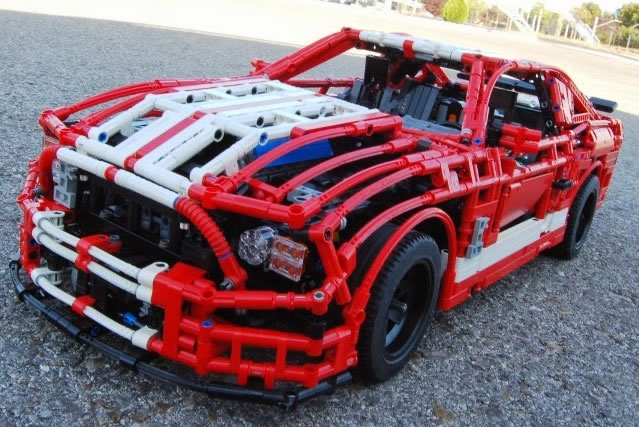 As a child I remember playing with my Legos hour after hour creating buildings, cars, and anything imaginable often mixing all the sets and pieces together.  Never did I create anything as cool and functional as what you see above.  The 1/8 scale Shelby GT500 Mustang was designed by Sheepo's Garage run by Fernando (Civil Engineering student) out of Madrid, Spain.
Fernando constructed this GT500 out of 3,500 individual Lego pieces and its totally functional. The car weighs roughly 6.8 lbs. and it uses five servo motors controlled by a remote control for various functions on the vehicle including the transmission, steering, fake engine movement and 4-wheel disc brakes, Yes the brakes work to.
This amazing Lego build is surely one-of-a-kind but as you might have guessed this is not his first build.  If you head on over to Sheepo's Garage site you will find other builds including a Bugatti Veyron 16.4, Porsche 911 Turbo, Mini Cooper Mark I, Peterbuilt 379 and a Caterham Seven.
Check out the amazing photos of the Shelby GT500 below.
Source: TechnologyTell