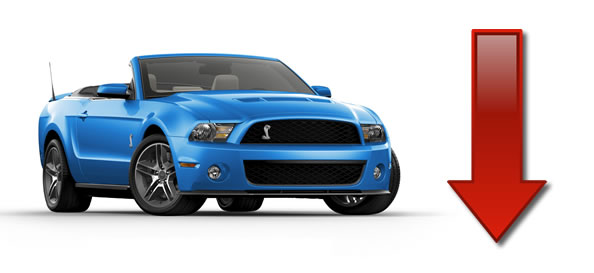 Meh might not be the right word but when the June Ford Mustang sales were revealed this is what came to mind. A shrug of the shoulders and a tightening of the lips as I look downward was my reaction and its not bad but its also not great. I was not expecting to be dazzled by some gaudy numbers as Mustang sales for June were off sharply from May numbers and its ok because the 2015 Mustang is lurking.
Keep reading to see a complete breakdown of June Mustang sales along with how the Camaro and Challenger fared.
Sales of the Ford Mustang for June of 2014 were 7,631 compared to 9,243 from June of 2013 showing a 17.4% decrease in sales from the previous year. Year to date Mustang sales are 44,231 compared to 43,111 for 2014, which is a 2.6% increase over the previous year.
Month to Month sales were down as May  2014 sales were 9,761 compared to June 2014 sales of 7,631 which is a 22% decrease.
Taking a look at the competition, the Chevrolet Camaro sold 7,721 units and the Dodge Challenger sold 4,377 units for June.
Previous Months Mustang sales figures are below:
May 2014 – 9,761
April 2014 – 7,243
March 2014 – 9,305
February 2014 – 6,410
January 2014 – 3,881
December 2013 – 5,727
November 2013 – 5,376
October 2013 – 6,918
September 2103 – 4,420
August 2013 – 5,866
July 2013 – 5,768
June 2013 – 9,243
Source: [Ford Motor Company]