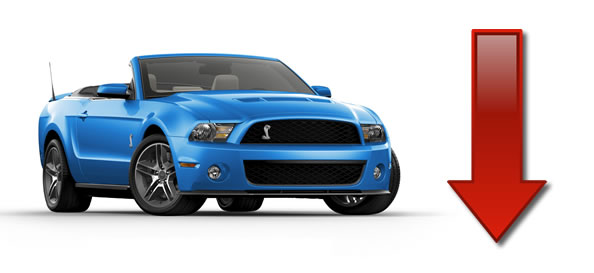 As I have said before history has a way of repeating itself and this year is no different as Ford Mustang sales took a nose dive in July.  Mustang sales were so bad for the month of July, they were off nearly 3,500 units from the previous month.  Why the big drop off, well its hard to say but my best guess would be less incentives and rebates along with a dwindling supply of Mustangs as Ford gets ready for the next generation 2015 Mustang.  Keep reading for a complete breakdown on the numbers.
Sales of the Ford Mustang for July of 2013 were 5,768 compared to 7,371 from July of 2012 showing a 21.7% decrease in sales from the previous year. Year to date Mustang sales are 48,879 compared to 55,995 for 2013, which is a 12.7% decrease over the previous year.
Month to Month sales were down sharply as June 2013 sales were 9,243 compared to July 2013 sales of 5,768 which is a 38% decrease.
Taking a look at the competition, the Chevrolet Camaro sold 7,969 units and the Dodge Challenger sold 4,271 units for July.
Previous Months sales figures are below:
June 2013 – 9,243
May 2013 – 8,797
April 2013 – 7,751
March 2013 – 7,688
February 2013 – 6,024
January 2013 – 3,608
December 2012 – 5,537
November 2012 – 5,309
October 2012 – 5,328
September 2012 – 4,439
August 2012 – 6,387
July 2012 – 7,371
June 2012 – 10,263
Source: [Ford Motor Company]