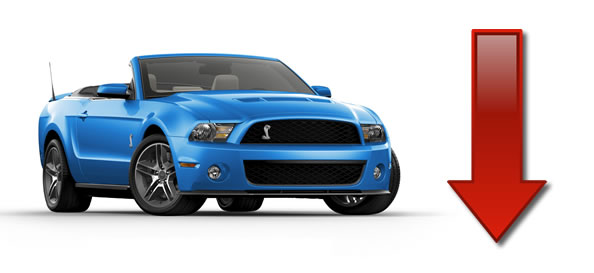 Mustang sales numbers have been published for the month of July with Ford selling more than the previous year but a rather large decrease from the previous month.  Sales of the Mustang for May and June were above the 10K mark showing us the 2013 Mustang had some appeal but that appeal wore off pretty quick as July numbers hit the skids.  Check out the numbers below for a complete rundown.
Sales of the Ford Mustang for July of 2012 were 7,371 compared to 6,805 from July of 2011 showing a 8% increase in sales from the previous year. Year to date Mustang sales are 55,995 compared to 45,846 for 2011, which is a 22.1% increase over the previous year.
Month to Month sales of the Mustang were off sharply as June 2012 sales were 10,263 compared to July 2012 sales of 7,371 which is a 28% decrease.
Taking a look at the competition the Chevrolet Camaro sold 6,926 units and the Dodge Challenger sold 3,631 units for June.
Previous Months sales figures are below:
June 2012 – 10,263
May 2012 – 10,427
April 2012 – 7,801
March 2012 – 9,046
February 2012 – 7,351
January 2012 – 3,736
December 2011 – 5,057
November 2011 – 3,865
October 2011 – 4,898
September 2011 – 5,054
August 2011 – 5,718
July 2011 – 6,805
June 2011 – 8,805
May 2011 – 6,607
April 2011 – 8,180
Source: Ford Motor Company