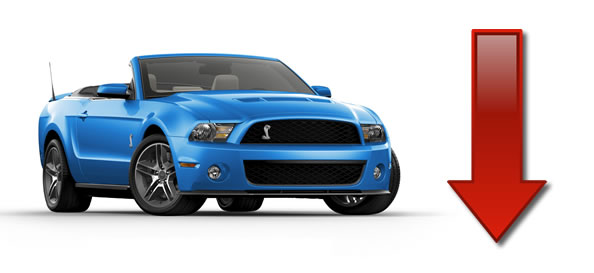 By now you are probably tired of hearing me say the first few months of the year are the worst in the car business but I will say it again as the Ford Mustang posted the 4th lowest sales number ever in the history of the Mustang.  January of 2013 joins January of 2011 and January and February of 2009 as the lowest monthly sales totals for the Ford Mustang since its introduction in 1964.  The all-new redesigned 2015 Mustang can't get here fast enough and I am sure Ford would agree.
Also to add insult to injury the Dodge Challenger nearly sold as many Challengers as Mustangs for the month of January.  Check below for a complete rundown on sales for the month of January including how the competition fared.
Sales of the Ford Mustang for January of 2013 were 3,608 compared to 3,736 from January of 2012 showing a 3.4% decrease in sales from the previous year. Year to date Mustang sales are 3,608 compared to 3,736 for 2013, which is a 3.4% decrease over the previous year.
Month to Month sales of the Mustang were down sharply as December 2012 sales were 5,537 compared to January 2013 sales of 3,608 which is a 35% decrease.
Taking a look at the competition the Chevrolet Camaro sold 4,925 units and the Dodge Challenger sold 3,497 units for January.
Previous Months sales figures are below:
December 2012 – 5,537
November 2012 – 5,309
October 2012 – 5,328
September 2012 – 4,439
August 2012 – 6,387
July 2012 – 7,371
June 2012 – 10,263
May 2012 – 10,427
April 2012 – 7,801
March 2012 – 9,046
February 2012 – 7,351
January 2012 – 3,736
Source: [Ford Motor Company]