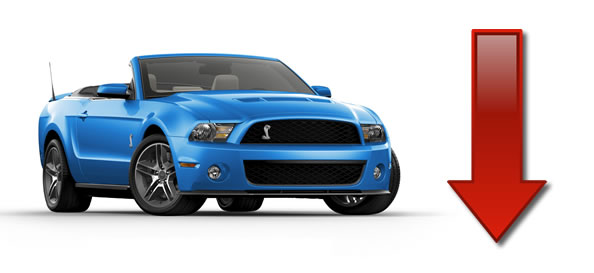 Breaking News: January Mustang sales nosedive over 1,300 units from previous month showing us things can get worse.  These numbers although shocking do not surprise me one bit with 2012 inventories drying up and the fact most people are waiting around for the refreshed 2013 Mustang.  I expect these type of numbers to continue on for a few more months until the new model arrives in April.  Check below for the complete breakdown.
Sales of the Ford Mustang for January of 2012 were 3,736 compared to 3,165 from January of 2011 showing a 18% increase in sales from the previous year. Year to date Mustang sales are 3,736 compared to 3,165 for 2011, which is a 18% increase over the previous year.  The previous figure is meaningless until we get a few months into the year.
Month to Month sales were down sharply as buyers stayed away with December 2011 sales showing 5,057 units sold compared to January 2012 sales of 3,736 which is a 26% decrease.
Taking a look at the competition the Chevrolet Camaro sold 5,709 units and the Dodge Challenger sold 2,551 units for January.
Previous Months sales figures are below:
December 2011 – 5,057
November 2011 – 3,865
October 2011 – 4,898
September 2011 – 5,054
August 2011 – 5,718
July 2011 – 6,805
June 2011 – 8,805
May 2011 – 6,607
April 2011 – 8,180
March 2011 – 8,557
February 2011 – 3,697
January 2011 – 3,165