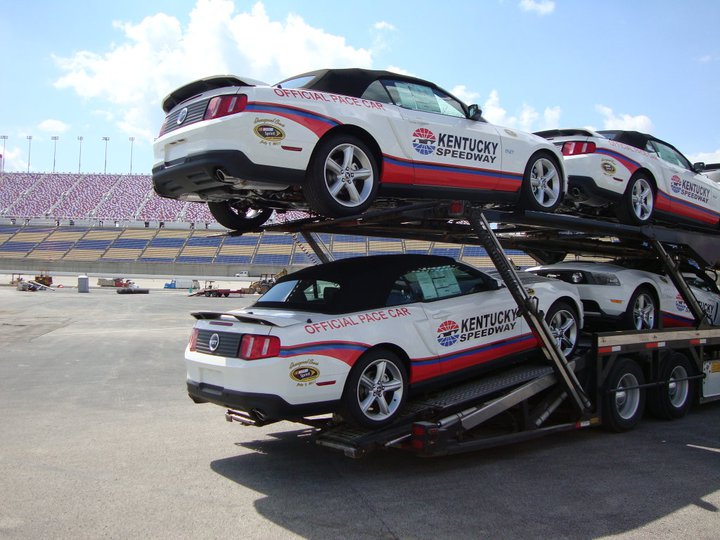 This weekend the Quaker State 400 will take place at the Kentucky Speedway with a new limited edition 2012 Mustang GT convertible pace car leading the way.  Ford and the Kentucky Speedway have teamed up to build 43 Official Pace Car Mustang GT convertibles to match the number of drivers in the inaugural "Quaker State 400" field.
The 2012 pace car Mustangs will come in white with black cloth convertible tops, special badging and the standard 5.0-liter V8 producing 412 horsepower.  The Mustangs are numbered for collectible purposes and feature unique "Official Pace Car" badging along with NASCAR and Kentucky Speedway logos.
Ford stores placed the one-of-a-kind convertibles on sale May 11. Consumers who purchase a limited-edition Mustang will have the opportunity to:
Drive a Sprint Cup Series competitor around the speedway's 1.5-mile tri-oval during the traditional
NASCAR parade lap prior to the 7:30 p.m. start to the "Quaker State 400;"
Enjoy four complimentary "Quaker State 400" tickets;
Meet and have a Ford driver autograph the Mustang;
Be chosen to wave the green flag during Sprint Cup Series qualifying July 8.
Convertibles are equipped with a 5.0-liter, 412-horsepower V8 engine, 3.5-inch mandrel-bent exhaust, coil-over MacPherson strut front suspension as well as a custom exterior package that delivers a pedestal spoiler, side scoops and a decklid face panel.