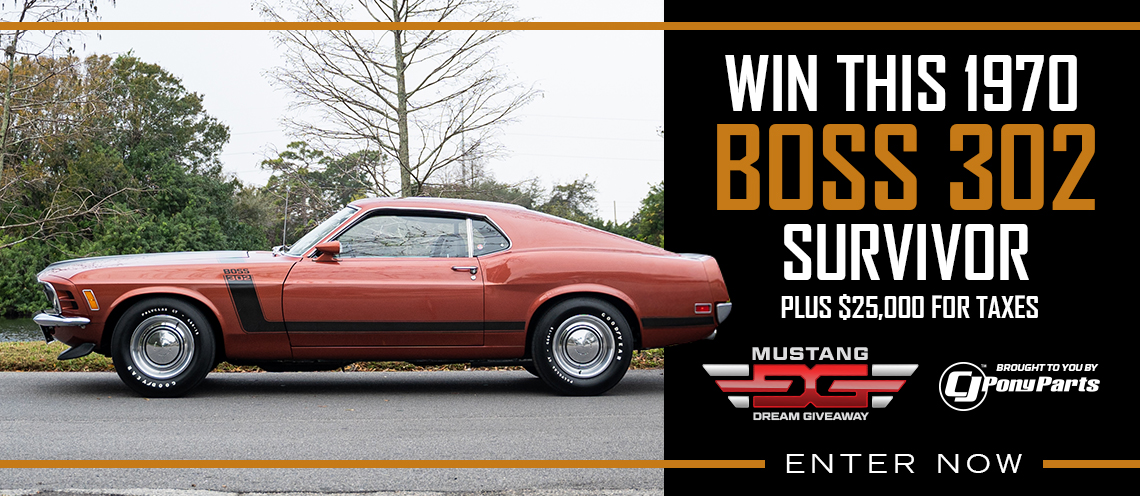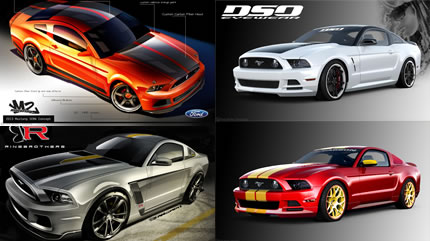 The annual SEMA is upon us in a little under a weeks time and you know what that means, boat loads of customized Mustangs with Ford leading the way.  This year Ford will feature 2013 Mustangs customized by the Ringbrothers, Mothers, Autosport Dynamics, RTR, DSO Eyewear, Stitchcraft, 3dCarbon and M2-Motoring.
So far all we have are renderings but you can begin to imagine what these awesome machines will look like. Check below for descriptions and illustrations of all six vehicles.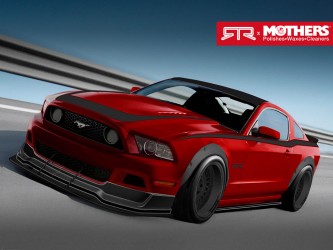 2013 Mustang GT built by Mothers, Autosport Dynamics and RTR
The Mothers' team has pumped this Mustang up to 650 horsepower, added a track-ready suspension, fitted big wheels and tires, wrapping the package with an RTR carbon-fiber body kit, and finishing the cockpit in custom Sparco seats with custom upholstery. Vaughn Gittin Jr., your Mustang is ready.
2013 Mustang GT built by DSO Eyewear
The DSO Mustang sports a Whipple twin-screw supercharger with intercooler which boosts horsepower to 750, while Eibach suspension and Brembo brakes help deliver and modulate speed. Big wheels and tires, a 3dCarbon body kit, extensive interior customization, and a booming Rockford audio system combine to set this unique build apart.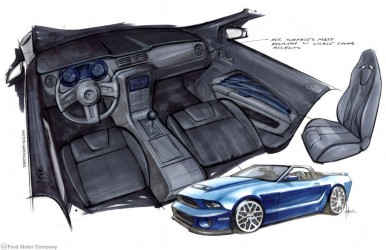 2013 Mustang convertible V6 built by Stitchcraft
Stitchcraft added nitrous injection, a FlowMaster exhaust, Hotchkis coil-over suspension and big Wilwood brakes to give this pony more performance. A 3dCarbon body kit and custom paint scheme harmonize with the signature Stitchcraft custom interior to add individuality and comfort.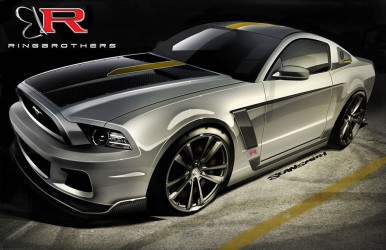 2013 Mustang GT 5.0L built by Ringbrothers
Inspired by street machine style, the Ringbrothers Mustang GT adds a supercharger, suspension upgrades, Baer brakes, a carbon-fiber body kit, custom waterborne paint, and big wheels and tires to create an optimized balance of form and function.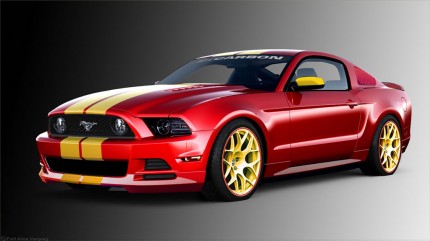 2013 Mustang 'Boy Racer' built by 3dCarbon
Inspired by the drag strip and straight to the bright lights of the Vegas strip is the 3dCarbon "Boy Racer" 2013 Mustang.  An all-out showstopper of a car, it is outfitted with 3dCarbon's all-new 3rd generation Boy Racer, derived from the original award-winning kit.  The interior is just as striking as the exterior, thanks to Pecca Leather, who created custom, leather-trimmed Recaro sport bucket seats, accented with red racing stripes.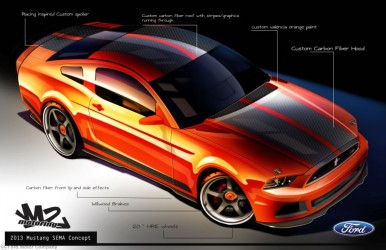 2013 Mustang built by M2-Motoring
Why it's cool: With many different generations of Mustangs, each generation has its own style and trends. With our Mustang project, we at M2-Motoring are looking to combine the ideals of all the different eras and incorporating all the newest technology available. From the custom 20″ Savini forged wheels to the use of lightweight carbon fiber, weight reduction and power gains from forced induction has been utilized to improve this car's performance in every aspect.
Source: Ford Motor Company