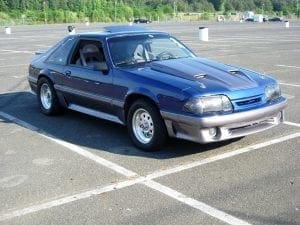 Jeff Wilson of Jaw's Gear amd Axle has done the unthinkable as he opted for a turbocharged inline-six for his Ford Mustang drag racer.  For his Mustang drag car Wilson chose the bullett proof Toyota Supra 2JZ-GTE engine which helped propel the car to an unbelievable eight-second quarter-mile.  His official time was8.962 @ 159.37 MPH at the SCE Summer Nationals at Famoso Raceway.
Looking at the photos of the engine it looks right at home inside the Mustangs engine bay with plenty of room to spare.  Now if we could only get Ford to turbocharge the new 2011 Mustang we would really have something.
Check out the photos below.