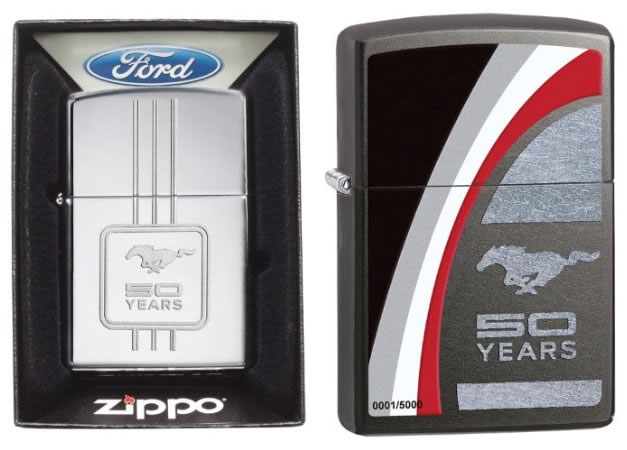 Its no secret the Ford Mustang is turning 50-Years-Old in 2014 and with it Ford is commemorating the event with a host of 50th Anniversary merchandise.  Ford has contracted with 50 companies to produce 50 products to celebrate the 50 continuous Years of Ford Mustang production.  So far we have learned Ford has approved of a '50 Years' Shinola Watch, Tee Shirts, Water Bottle and a hat.
The latest offering to reveal itself is a pair of '50 Years ' Zippo Lighters, one in high-polish chrome and the other in a limited-edition translucent gray color with only 5000 copies being made. The high-polish chrome 50 Years Zippo lighter is available on Amazon.com for $22.35 and the limited-edition Zippo 50 Years lighter is available for $27.69.  Descriptions and photos of both are below.
Ford Mustang 50 Years High Polish Chrome Zippo Lighter – Made in the USA with a Lifetime Warranty. Buy Now at Amazon.com.
.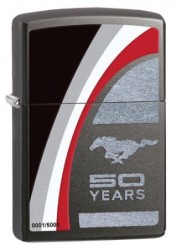 Ford Mustang 50 Years Limited Edition Translucent Gray Dusk Zippo Lighter – Made in USA with Lifetime Warranty.  Buy Now at Amazon.com.