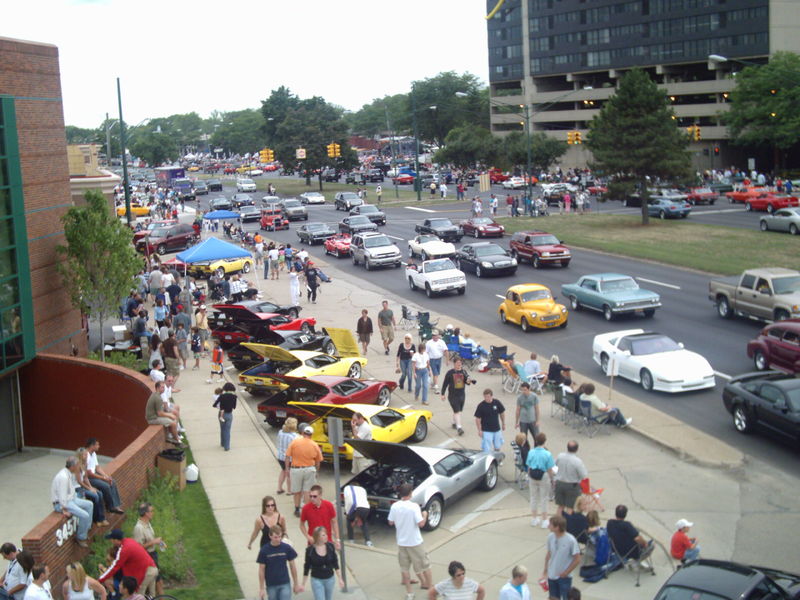 This years Woodward Dream Cruise, the world's largest one-day classic car event  takes place August 20th in Ferndale, Michigan just outside the Detroit city limits.  Each year about 1.5 million visitors and 40,000 antique and classic cars from all over the country descend upon Woodward Avenue.  Ford is expected to have one of the largest displays of classic Ford Mustangs ever with over 700 models for you viewing pleasure.
The Ford display will be located at the intersection of Woodward Avenue and 9 Mile Road in Ferndale where it will be turned into Mustang Alley.  More than 700 classic Mustangs and other Ford-built muscle cars are registered for a classic car show.  If the weather cooperates and all cars arrive as scheduled, this year's event is expected to feature at least one of every type of Mustang model made since the car debuted in April 1964.
The full Mustang line will be on display, including 2012 examples of the 550-horsepower Shelby GT500, both street and racing versions of the Boss 302, and the Mustang GT and V6 Coupe with performance package. With its reborn 5.0-liter V8 packing 412 horsepower, powerful brakes, six-speed transmission and class-exclusive electric power steering, the Mustang GT remains one of America's best performance car values.
The Dream Cruise will also offer spectators a close-up look at the next-generation 2012 Focus ST, the performance version of the all-new Focus five-door that features a 2.0-liter EcoBoost engine making an estimated 247 horsepower, a six-speed manual transmission and race-tuned suspension. The eagerly awaited Focus ST, due next spring, will be the first high-performance compact Ford has offered in the United States since 2004.
Other performance Fords on display include SuperCab and SuperCrew versions of the hot-selling SVT Raptor off-road pickup, a Ford GT supercar and a selection of Shelby Mustangs from 1965 to the present in the Shelby "Snake Pit."
Ford Racing engines
Mustang Alley is the place to be for Ford performance enthusiasts who are building their Ford-powered street rods and race cars. Ford Racing will have a large display of street and strip crate engines at Mustang Alley. A cadre of Ford Racing technicians and engineers staffing the display will be available to meet with the public and answer detailed technical questions about performance, installations, tuning and other topics.
Also, a new Ford crate engine makes its debut at the Dream Cruise. It's a stroked 363-cubic-inch pushrod V8 based on the classic 302-cubic-inch engine that has powered millions of Mustangs over the years.
Ford Racing engineers will also stage test runs of the new 5.0-liter V8 Mustang GT engine, which is mounted on a run stand.
High-performance parts installed
Mustang Garage on 9 Mile Road is again open for business during the Woodward Dream Cruise. Owners of Mustangs built from 2005 to 2012 can drive in and have Ford Racing technicians install high-performance parts, including axle-back exhaust systems, short-throw shifters and suspension packages, while they wait.
Jost Capito, Ford director of Global Performance Vehicles and Motorsport Business Development, and Dave Pericak, Mustang chief engineer, will also be on site at Mustang Alley on Saturday to meet with visitors.