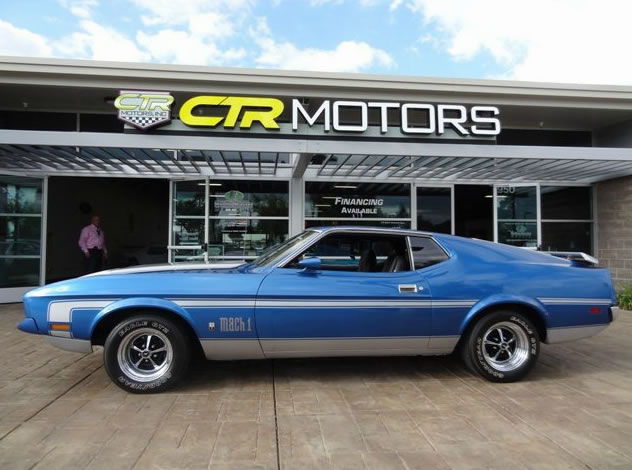 What may look like your run of the mill restored Classic Mustang Mach 1 is actually a very rare export which found its way back to the U.S. via Germany.  This 1971 Ford Mustang Mach 1 T-5 Fastback is 1 of 2 known to exist in the World with the other believed to be still in Germany in an unknown condition.
How did this rare Mustang find its way to Germany you may ask?  Well it was sent there by Ford to be sold to the large number of Military personnel living overseas.  Most manufacturers exported vehicles for purchase through the Military PX system.  This vehicle was one of those but instead of calling it a Mustang, Ford had to change the name to 'T5' due toa Trademark which was already held by the HDK company.
HDK was a European  manufacturer of large trucks and they also held the copyright/trademark for the Mustang name in Germany.  Due to the trademark issues and before any Mustangs could be exported to Germany Ford had to change any and all Mustang references on each vehicle to 'T5'.  Where did Ford come up with T5, well it turns out T5 was the project name of the original prototype.  Each Mustang received new T5 fender emblems and any reference to Mustang was removed before they could be exported.  In total 277 Mustangs were exported to Germany in 1971 and of those two were Mach 1's.  Of those two this one was brought back to the U.S.  The other Mach 1 is still in Germany in an unknown location.
Once this Mustang was brought back to the states it received a very meticulous body off frame restoration to concourse standards.
This Mustang comes complete with all documentation including original build sheet, export and import documents, window sticker, registry information and restoration photos.
It can be yours for the price of $137,500 through CTR Motors who is currently selling the vehicle.  For more information head on over to CTR Motors.