At Ford Motor Company's world headquarters in Dearborn, Michigan this past weekend a few classic and historic Ford Mustangs made an appearance at the Mustangs and Memories car show.  Among the classic Mustangs in attendance was a prototype Mustang hand-built for Henry Ford II and the first Ford Mustang ever sold to the pubic.
The Mustang prototype was built for Henry Ford II or as most people called him "Hank the Duece" well before the first Mustangs showed up on the road. Back in early 1964 Hank was seen driving the black coupe around town as people wondered what kind of car he was driving. The glossy black coupe featured a high-output 289 V8, four-speed automatic transmission, red pinstripes, red line tires and a custom leather interior.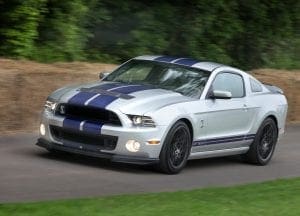 Another vehicle on hand at the car show is of high importance as it was the first Ford Mustang ever sold to the public, not the first produced but the first sold.  It was actually sold two days before Lee Iaccoca unveiled the Mustang to the world at the New York World Fair.  The light blue Mustang convertible was sold to a teacher in Chicago on April 15, 1964.
Gail Wise just graduated from college and she wanted to buy a convertible.  Her parents took her to Johnson Ford in Chicago but there were no convertibles on the lot until the dealer said one had just arrived.  When they went in the back room it was the light blue Mustang convertible and she instantly fell in love with it.  She purchased the Mustang for $3,447.50 and got a $400 trade-in from her '58 Cheverolet.
Two days later she drove the car to work around the same time Lee Iacocca set off a frenzy when he introduced the Mustang to the World.
"When I drove it, everybody was waving at me and flagging me down to take a look at the car. I felt like a movie star," Wise said Sunday.
Check out a video below Gail with the light blue Mustang.
Source: Freep.com