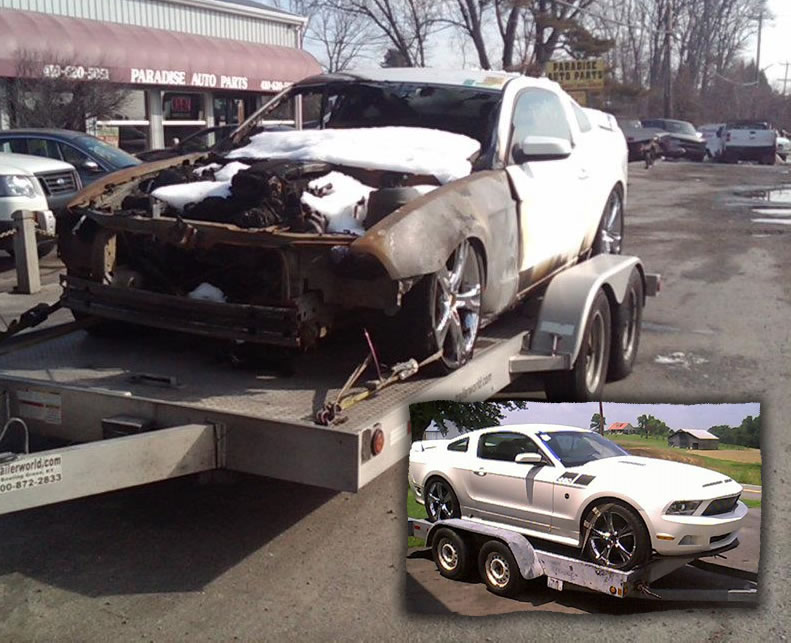 Back in January of 2011 we wrote about a 2010 SMS 460 Mustang #005 that was torched by vandals while sitting on the lot at Bob Bell Ford in Glen Burnie, Maryland.  A sad day indeed but the Mustang eventually made its way to eBay where a buyer paid a small sum of $3,500 for the fire damaged vehicle.
Fast forward to the present day where the SMS 460 Mustang has been repaired and restored to its original condition for a cost of $15,000.  Truly an amazing transformation for a car that was surely headed for the parts bin.  The person responsible for the restoration wasthe eBay buyer himself who repairs vehicles for a living and has owned/repaired over 400 Mustang GT's in his lifetime.
When the SMS 460 was purchased on eBay it had 33.5 miles on the odometer, the engine and interior were badly burned along with several body parts needing replacement.  By some miracle the original engine was rebuilt and reused as was the transmission.  Over $10K of new Ford parts were purchased to fix the Mustang and about $5K worth of used parts from fresh wrecks.  This goes to show you a little elbow grease and determination goes a long way in this world.  Check out before and after photos of the SMS 460 Mustang below.
Hat tip to Michael M. for the info & pics.
Before:
After Repairs:
Source: soec.org