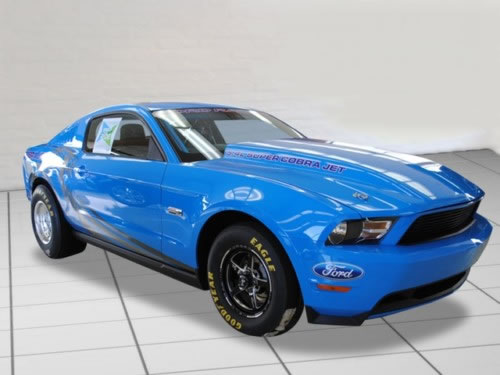 Up for sale on eBay is Ford Racing's latest offering, a 2012 Mustang Cobra Jet in Grabber Blue with its revised 5.4L supercharged engine.  This 2012 Cobra Jet is just one of 50 units produced and this one is specifically numbered 46 out of 50.  The 2012 model saw a signifigant number of changes under the hood and in the paint department including the addition of Grabber Blue and Race Red.  The vehicle does not have a VIN and is intended for off-road use only but it is serialized for collectability.
It can be yours for a Buy It Now price of $109,989.
Check out the or look below for all the photos.
New for 2012 Model Year:
Revised 5.4L supercharged engine specifications
Aluminum engine block
Double keyed crankshaft snout
Manley H-beam rods
Improved low-drag racing brakes – Strange Engineering
Revised and optimized spring rates front and rear
New design Black anodized Cobra Jet wheels – Weld Racing
Goodyear Tires with new DR compound – Cobra Jet branding
Optional colors – Race Red (new), Grabber Blue (new), and Winner White
Drivetrain:
430hp 5.4L DOHC supercharged engine (aluminum block)
2.3L TVS Supercharger with twin 65mm dual bore throttle body
3-Speed C4 Auto Race Transmission – Joel's on Joy
9″ rear axle w/4.29:1 Axle Ratio – Strange Engineering
Chassis:
NHRA Stock Eliminator legal interior
8.50et NHRA certified roll cage
Estimated weight of 3,200 lbs
Cobra Jet trim and appearance package
Drag race wheel/tire combination (Rear

Tire

30.0 x 9.0)
Cobra Jet spring/adjustable damper tuning
Light-weight, low-drag brakes (manual)