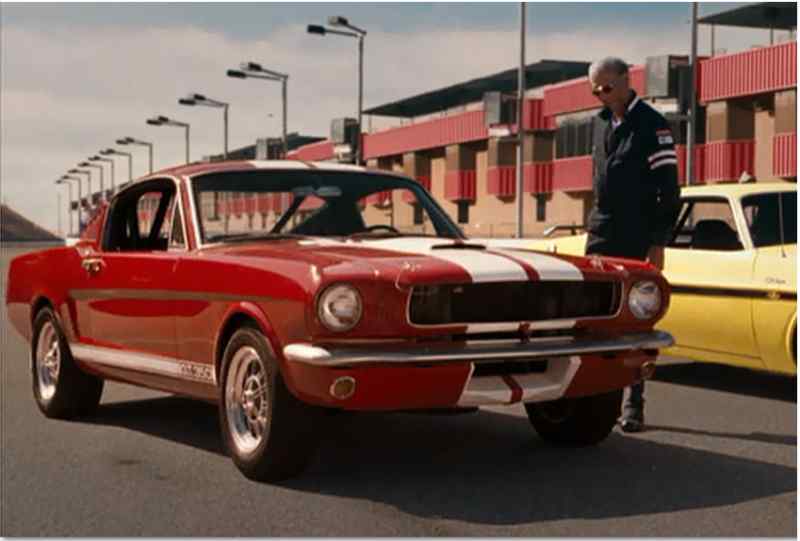 The 2007 movie 'Bucket List' starring Academy Award-winners Jack Nicholson and Morgan Freeman follows two terminally ill men on their around the world trip trying to complete their wish list (bucket list) of sorts before they pass away.  For one scene of the movie Freeman and Nicholson each drive a 1965 Shelby GT350 and a 1970 Dodge Challenger respectively around a track.
The 1965 Mustang was built as a Shelby GT-350 clone for the movie with Morgan Freeman piloting the vehicle. The car was one of three built by the Hollywood movie car builder, Ghostlight Industries. Of the three cars built for the movie, one was wrecked during the jump scene, one is in a private collection and this one is up for sale.
The race scene with the GT350 clone was filmed on the closed track at the Auto Club Speedway in Fontana, California.
The Bucket List Mustang Movie Car comes with the following items:
A "Letter of Authenticity" on Warner Brothers Studios letterhead, signed by the Director of Transportation.
The California title showing the car was titled to Ghostlight Industries.
An original, named, and numbered movie script from the movie.
An original The Bucket List movie hat given to production crew members.
A hat from Auto Club Speedway.
An original and certified autographed photo, signed by Morgan Freeman, showing him in this car.
Other registration and auction materials showing the history of the car.
Auto Enthusiast Magazine copies, showing the car.
2012 Support Our Soldiers calendar showing the car with Miss September.
A digital file containing numerous before and after photos, movie clips, movie still photos, and related documents.
The Mustang movie car has been stored in a private warehouse and displayed on a few occasions at car shows and various events.
For more check out the photos below or head on over to the eBay auction
.
Movie Scene with Shelby GT350 clone driven by Morgan Freeman: