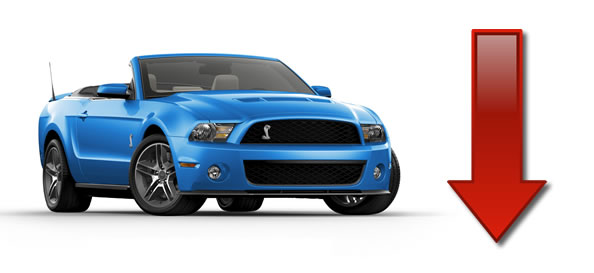 Mustang sales have been up and down over the course of the year with a high of 8,805 in June and a low of 3,165 in January but as Decembers numbers were released they finished on somewhat of a brighter note with an increase of 1192 units from November.  Lets hope with the refreshed 2013 Mustang coming in a few months it will entice buyers enough to purchase Americas favorite pony car.  Read below for the complete breakdown.
Sales of the Ford Mustang for December of 2011 were 5,057 compared to 5,452 from December of 2010 showing a 7.2% decrease in sales from the previous year. Year to date Mustang sales are 70,438 compared to 73,716 for 2010, which is a 4.4% decrease over the previous year.
Comparing the yearly total of the competition: Camaro sold 88,249 and the Challenger sold 39,534 vehicles.  There is definitely room for improvement on the Mustang side and as the Camaro's allure dies off expect the numbers to be closer in 2012.
Month to Month sales were up over a thousand units for the Mustang as November 2011 sales were 3,865 compared to December 2011 sales of 5,057 which is a 31% increase.
Taking a look at the competition the Chevrolet Camaro sold 6,754 and the Dodge Challenger sold 3,284 units for December.
Previous Months sales figures are below:
November 2011 – 3,865
October 2011 – 4,898
September 2011 – 5,054
August 2011 – 5,718
July 2011 – 6,805
June 2011 – 8,805
May 2011 – 6,607
April 2011 – 8,180
March 2011 – 8,557
February 2011 – 3,697
January 2011 – 3,165