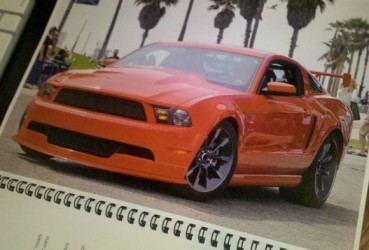 The 2011 Mustang is on a roll these days with two all-new engine platforms, glowing reviews from all major publications and now news a Cobra 'R' model Mustang is returning for the 2011 model year. The news was leaked via a photo of a press kit for the all-new 2011 Cobra 'R' Mustang with StangNet somehow managing to get the exclusive on what looks like one sinister looking performance vehicle.  This new model will mark the 4th SVT badged Cobra 'R' model since the first one was introduced back in 1993.
From the leaked photo you can see the new Cobra 'R' model will have a mean look with a redesigned front fascia, front splitter, blacked out grilles, trademark race-inspired rear wing, large diameter black chrome wheels and a cowl hood of sorts.  What lurks beneath the big buldge of the hood, your guess is as good as mine but expect something powerful in naturally aspirated form as Ford likes to leave the power adders off this model.  Also in the photo you can depict racing seats and a wrapped roll cage which means this Cobra 'R' means business.  Whatever the mods expect this Cobra 'R' model to nothing short of greatness.
For more on the return of the Cobra 'R' model head on over to StangNet.