Modders, tuners, wrenchers, project car owners, and pretty much everyone else, Ford Performance has probably just made your year.
As we keep an eye out for even the smallest bits of Mustang news, and Ford news in general, the fact that a new engine appeared in Ford Performance's catalog of engines didn't escape our attention. It was only when we looked at the engine code and tilted our heads sideways that we noticed something very familiar.
Listed as M-6007-M52SC, we immediately recognized that the code held M52SC. Translated, that is "Mustang, 5.2L, Super Charged." Only one Mustang holds that engine, and when we investigated, it is indeed the supercharged Predator 5.2L V8 from the 2021 Shelby Mustang GT500.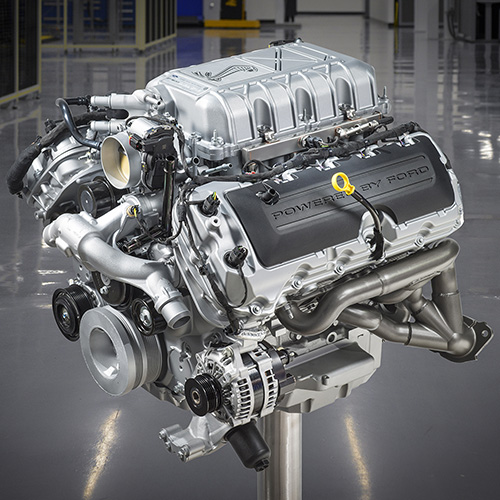 It seems a lot of others have noticed as well, as the internet is literally exploding with the excitement of this latest engine to be available in a crate. In case you aren't overly familiar with it, let's just run down some quick specifications.
Firstly, of course, the Predator displaces 5.2L or 315 cubic inches. This gives each cylinder almost dead on 65occ (39.7 cu in) in space, running with a 94mm bore and 94mm stroke for smooth, even power.
Solidly bolted to the intake portion of the Predator is an Eaton TVS R2650 twin-screw radial supercharger, with a gaping 92mm intake throttle body. This massive 2.6L supercharger, itself just over half the internal displacement of the engine itself, takes air and shoves it into the cylinders at nearly 32 PSI of boost (2.2 bar for the metric minded).
With the engine running a 9.5:1 compression ratio, this results in possibly the best numbers that the M52SC Predator chucks out: 760 very angry American horses and 625 lb-ft of Earth-destroying torque.
While Ford Performance officially states, for legal reasons, that "This part is intended as a replacement part for use only in the application identified in the product description," ie a replacement engine for a Shelby GT500, they don't actually check what you're planning on doing with the engine. So, if you ever wanted to make your fox-body into the ultimate sleeper, or do a restomod on an original Shelby GT500 with modern power, all you need to do is cough up the (admittedly expensive) $25,995 USD that each engine will cost.
Also, additional costs will come in as it's not as simple as simply dropping the engine in, hooking up the battery, and turning the key. The M52SC Predator is a bespoke, highly specified engine, and has its own dedicated electronics, ECU, and other fiddly bits to purchase as well to make it work. As well, you're on the hook for making sure whatever installation you choose to do complies with all state, federal, provincial, regional, or other special exception emission laws, or put simply, road legality is up to you.
Yet still, the fact that you can just outright buy the Predator 5.2L as a crate engine is more than enough of a reason to hoist a mug to Ford Performance. They kept their promise to release all their high-power V8's of recent years as crate engines before 2022, and with just over 50 days to spare, they've done it!