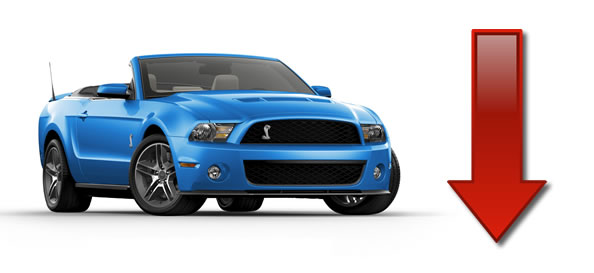 Ford Mustang sales figures have been released for the month of April and unlike last month where we saw sales sizzle this time around sales have fizzled out. Its no surprise to us or even Ford we imagine but at least sales remain strong. Expect sales to remain flat through the coming months as most Mustang buyers will have their eye on the 2015 Mustang. Check below for a complete breakdown on April sales.
Sales of the Ford Mustang for April of 2014 were 7,243 compared to 7,751 from April of 2013 showing a 6% decrease in sales from the previous year. Year to date Mustang sales are 26,839 compared to 25,071 for 2014, which is a 7.1% increase over the previous year.
Month to Month sales were down sharply as March 2014 sales were 9,305 compared to April 2014 sales of 7,243 which is a 22% decrease.
Taking a look at the competition, the Chevrolet Camaro sold 9,043 units and the Dodge Challenger sold 5,122 units for April.
Previous Months Mustang sales figures are below:
March 2014 – 9,305
February 2014 – 6,410
January 2014 – 3,881
December 2013 – 5,727
November 2013 – 5,376
October 2013 – 6,918
September 2103 – 4,420
August 2013 – 5,866
July 2013 – 5,768
June 2013 – 9,243
May 2013 – 8,797
April 2013 – 7,751
Source: [Ford Motor Company]