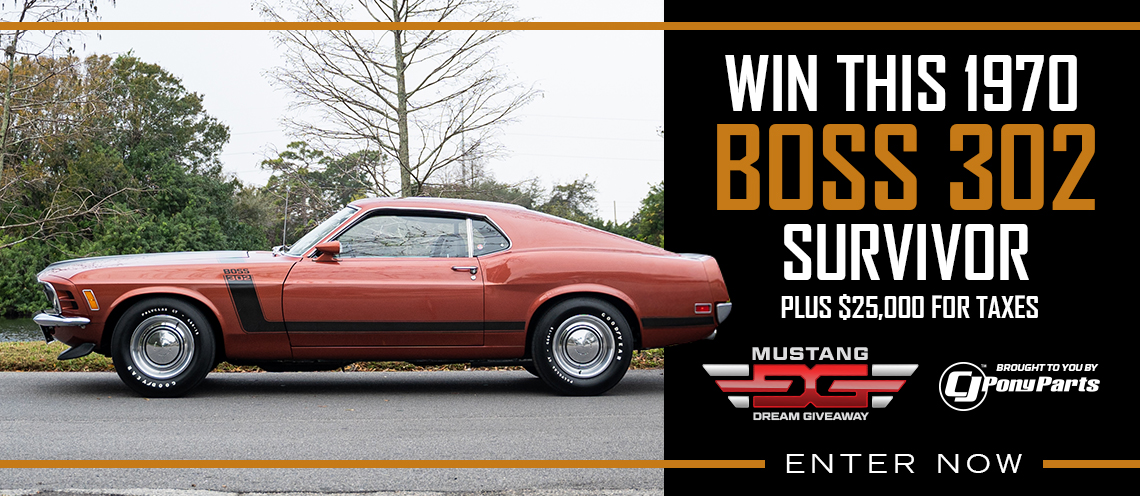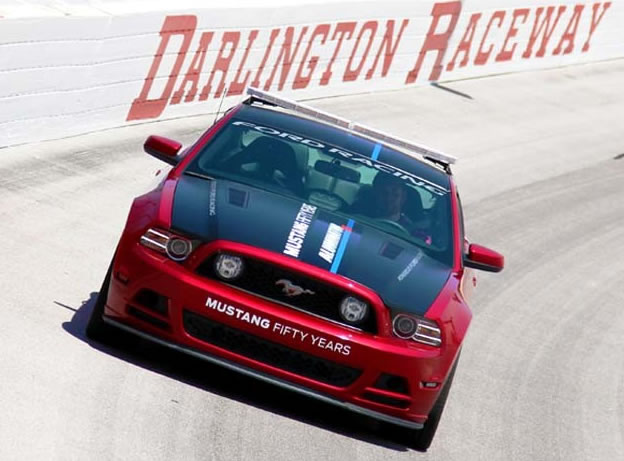 This past weekend at the NASCAR Sprint Cup Bojangles' Southern 500 at Darlington Raceway a custom 2014 Mustang GT powered by the new Ford Racing Aluminator XS crate engine was given pace car duties. Behind the wheel of this custom Mustang was U.S. Senator Tim Scott (R-S.C.) and NASCAR veteran Brett Bodine.
The ruby red pace car started life as any ordinary GT would with a 420 horsepower 5.0-liter engine. Soon enough the engine was yanked in favor of the new Aluminator XS crate engine and a host of other goodies from the Ford Racing Boss 320S and the Cobra Jet programs were added.After the transformation and modifications were complete the Mustang GT was good for over 500 horsepower.
Read More about the custom pace car below and view the entire parts list which totaled up to a staggering MSRP price of $37,506.
Press Release:
When the gleaming ruby red Mustang GT Aluminator XS paces the field of thundering NASCAR Sprint Cup machines at the Bojangles' Southern 500 onSaturday, April 12, at Darlington Raceway, it also will be waving the green flag for a year-long recognition of Mustang's 50th anniversary.
U.S. Senator Tim Scott (R-S.C.) is the honorary pace car driver for the event and will start the race behind the wheel. NASCAR veteran Brett Bodine will pilot the Mustang GT Aluminator XS pace car for the remainder of the event.
"We can think of no better way to begin Mustang's 50th anniversary celebration than by having one of our most technologically advanced Mustangs pace one of NASCAR's most historically significant traditional races," said Tim Duerr, Ford Racing marketing manager.
The Mustang GT Aluminator XS pace car started its life as a 420-horsepower 2013 Mustang GT, but with the Aluminator XS crate engine and a mix of parts from the Ford Racing Boss 302S and the Cobra Jet programs, it makes 500 horsepower.
The Aluminator XS engine itself features a lightweight aluminum cylinder block with cross-bolted main bearing caps and thick main bearing bulkheads for bottom-end strength. It has four-valve-per-cylinder BOSS, fully CNC-machined aluminum heads. In addition, the 5.0L, 302 cubic-inch powerplant features forged pistons with low-friction coating.
A small sampling of the Ford Racing additions include: camshafts, Cobra Jet-tuned air intake, throttle body and 47-pound fuel injectors.
To handle the increase in power, it also has a complete Ford Racing handling package with adjustable shocks and struts, lowering springs and adjustable sway bar. The wheels have been updated to 19 x 9.5-inch SVT forged aluminum.
Mustang's 50th anniversary celebrations will begin with concurrent events April 17-20 at Charlotte Motor Speedway and Las Vegas Motor Speedway. Ford Motor Company and its dealers will host other national and local anniversary events throughout 2014.
See the Mustang GT Aluminator XS in action when the NASCAR Sprint Cup Bojangles' Southern 500 airs at 6:30 p.m. ET on Fox.
Ford Racing Mustang GT Project "Aluminator" Part List:
Powertrain
Chassis
Body & Interior
Source: Ford Racing