Over at TheMustangSource forums a Ford customer service representative posted details about the upcoming 50th anniversary Mustang and its 2014 ½ model year designation.  Over the past year or so there has been rampant speculation coming from the Mustang community as to what Ford has planned for the 50th anniversary model and one Ford rep summed it all up in a few sentences.
According to the rep, Ford will produce a limited edition 2014 ½ Mustang as a 50th Anniversary model.  The limited run will be added to production sometime during the year.
You might remember Ford also produced a 35th anniversary model in 1999, a 4oth anniversary in 2004 and a 45th anniversary model in 2009.  The 50th anniversary Mustang should be along the same lines as previous years with special badging, interior enhancements and maybe even a paint scheme.
Expect to see the 50th anniversary Mustang at one of the upcoming auto shows, my guess would be the Detroit Auto Show in January 2013. Below I have added several Mustang anniversary emblems/badges for you viewing pleasure.
Source: TheMustangSource
2009 Mustang – 45th Anniversary Emblem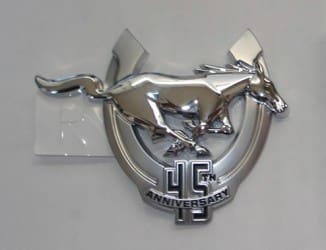 2004 Mustang – 40th Anniversary Emblem
1999 Mustang – 35th Anniversary Emblem
1994 Mustang – 30th Anniversary sticker
1989 ½ Mustang – 25th Anniversary Emblem
1984 Mustang – 20th Anniversary Emblem