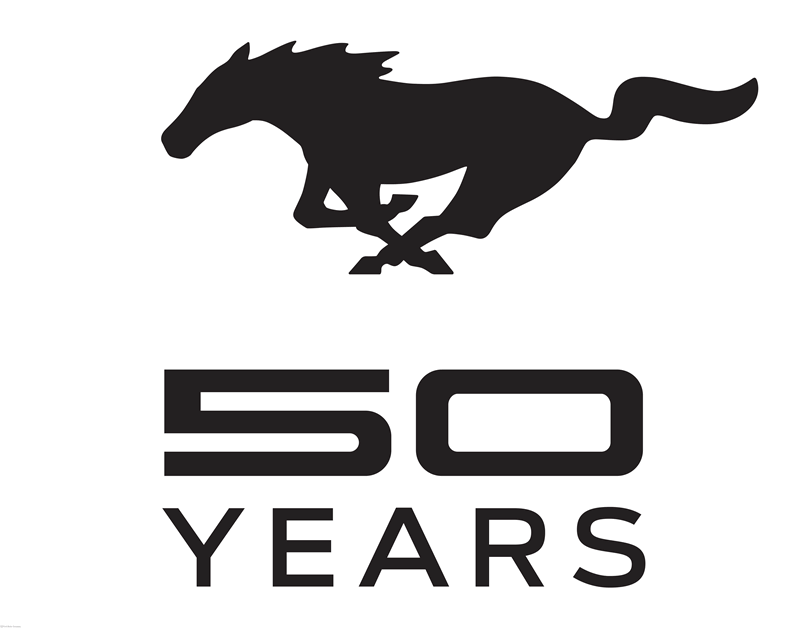 Ford has begun the countdown to the 50th Anniversary of the Mustang by revealing the official logo which commemorates the 50 years the Mustang has been in continuous production.  The winning logo was created by Ford designer Michael Thomson after an internal competition.  The simple and clean 50th anniversary logo features the Mustang's trademark galloping pony in silhouette over the "50 YEARS" words.
As part of the 50th anniversary milestone Ford has selected a group of 50 licensees to produce merchandise including watches, shirts, die-cast models, video games, toy cars and jackets with the "50 YEARS" pony logo. Only 50 companies will be licensed to create these products bearing the special logo.
"We're working closely with our licensees to ensure every item reflects the unique qualities of Mustang," said John Nens, Ford's team lead for Global Brand Licensing.  He goes on to say  "Like the car itself, we want our licensed products to convey an attitude of strength, passion and the highest quality."
Over the coming weeks and months those 50 companies will reveal a variety of Mustang products featuring the "50 YEARS" pony logo to mark the iconic moment in automotive history.
Source: [Ford Motor Company]