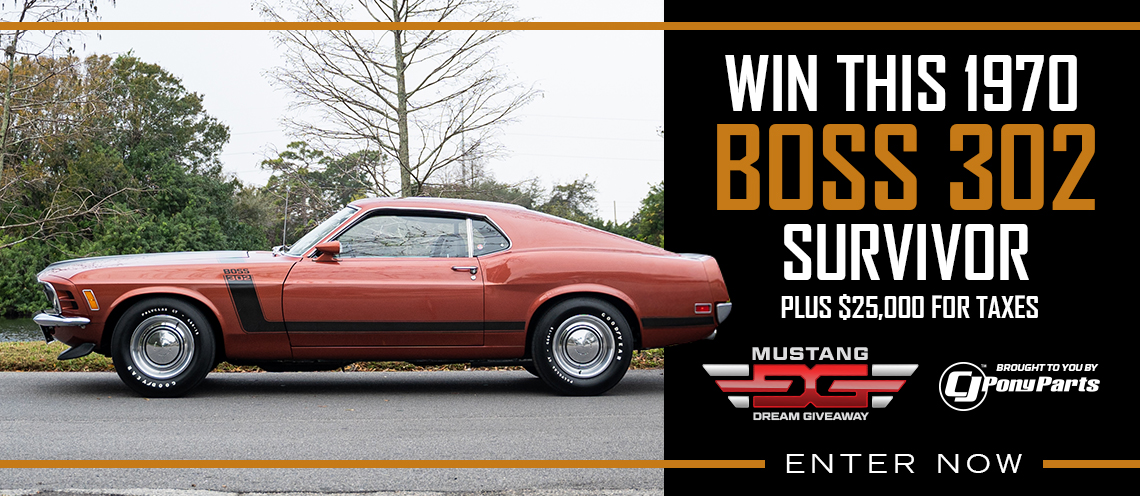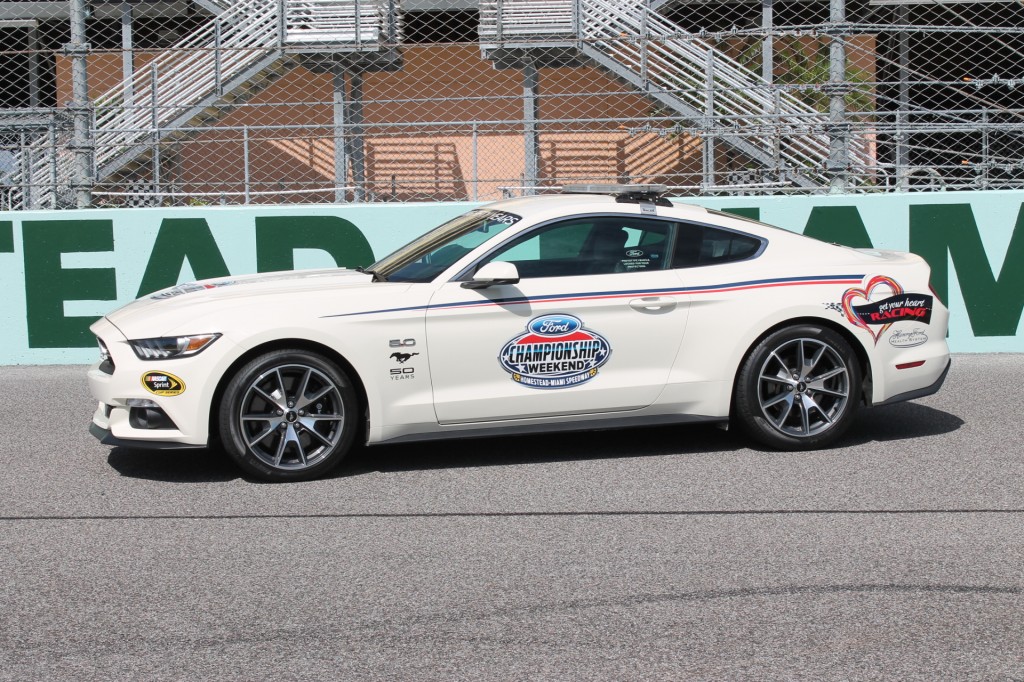 The Chase for the NASCAR Sprint Cup Championship comes down to the last weekend at Homestead-Miami Speedway with Kevin Harvick, Ryan Newman, Joey Logano and Denny Hamlin vying for the win.
In a fitting tribute to the continuing golden anniversary celebration of the iconic pony car, a 50-Year Limited Edition 2015 Ford Mustang will pace the NASCAR Sprint Cup and Nationwide Series races during Ford Championship Weekend at Homestead-Miami Speedway, Nov. 14-16.
The Wimbledon White pace car, one of just 1,964 50-Year Limited Edition Mustangs built, will lead the field to the green flag for the Ford EcoBoost® 400 NASCAR Sprint Cup Series race Nov. 16 and the Ford EcoBoost® 300 NASCAR Nationwide Series race Nov. 15.
Mark Fields, President and Chief Executive Officer of Ford Motor Company, will drive the pace car equipped with 5.0-liter Ti-VCT V8 engine, leading the Sprint Cup field to green for the final time this season. John Felice, vice president, U.S. Marketing, Sales and Service will pace the starting field for the Nationwide race.
A Race Red 2015 Mustang GT fastback will serve as the splitter pace car for the two races.
Built in Flat Rock, Mich., Mustang is all-new from the ground up. This sixth-generation, rear-wheel-drive car has the long hood and short rear deck lid proportions of its most iconic predecessors, as well as that low, wide stance, but its design is very much 21st century, with state-of-the-art engineering and technology.
"Ford is very proud to have a 50-Year Limited Edition 2015 Mustang pace the NASCAR Sprint Cup and Nationwide races during Ford Championship Weekend," said Chantel Lenard, director, U.S. Marketing, Ford Motor Company. "To have Mustang — a brand born of racing — in this special anniversary year, leading some of the world's best drivers to the championship in two of NASCAR's premier series, is special. We know our fans will enjoy seeing it out on the track."
Among the many new features on the 2015 Mustang GT is an independent rear suspension engineered specifically for this new platform and car. It also features an all-new state-of-the-art front suspension.
Mustang GT's 5.0-liter Ti-VCT V8 engine generates 435 horsepower and 400 lb.-ft. of torque. Two other engines — a 3.7-liter V6 and 2.3-liter EcoBoost® — will also be available when the car hits showrooms later this year, part of the Mustang stable of engines which all boast over 300 horsepower.
A pair of all-new 2015 Ford F-150 pickup trucks will pace the NASCAR Camping World Truck Series Ford EcoBoost® 200 at Homestead-Miami Nov. 15.