At this point, few keeping score can categorize Ford's 2.3L EcoBoost I4 as anything less than a stellar performer in a pint-sized package. Far from your typical four-banger, the EcoBoost has pinch-hit for the Ford Mustang for nearly a decade, serving as quite the complement to the manufacturer's larger 5.0L Coyote V8.
In fact, many consumers were elated to find that the seventh-generation Mustang's release was accompanied by the return of Ford's most potent inline-four. On the other hand, those wishing for a little something new also have much to find favor in, as Ford's engineering team has upped the ante once again, further upgrading the EcoBoost from its prior configuration.
In the grand scheme of things, it is hard to argue with the merits of any turbocharged four-cylinder that easily dishes out 300-plus horsepower. This is a point that has not fallen on deaf ears in recent years, as even many V8 purists have come to commend the marriage between Ford's famed pony car, and the miniature, yet mighty EcoBoost.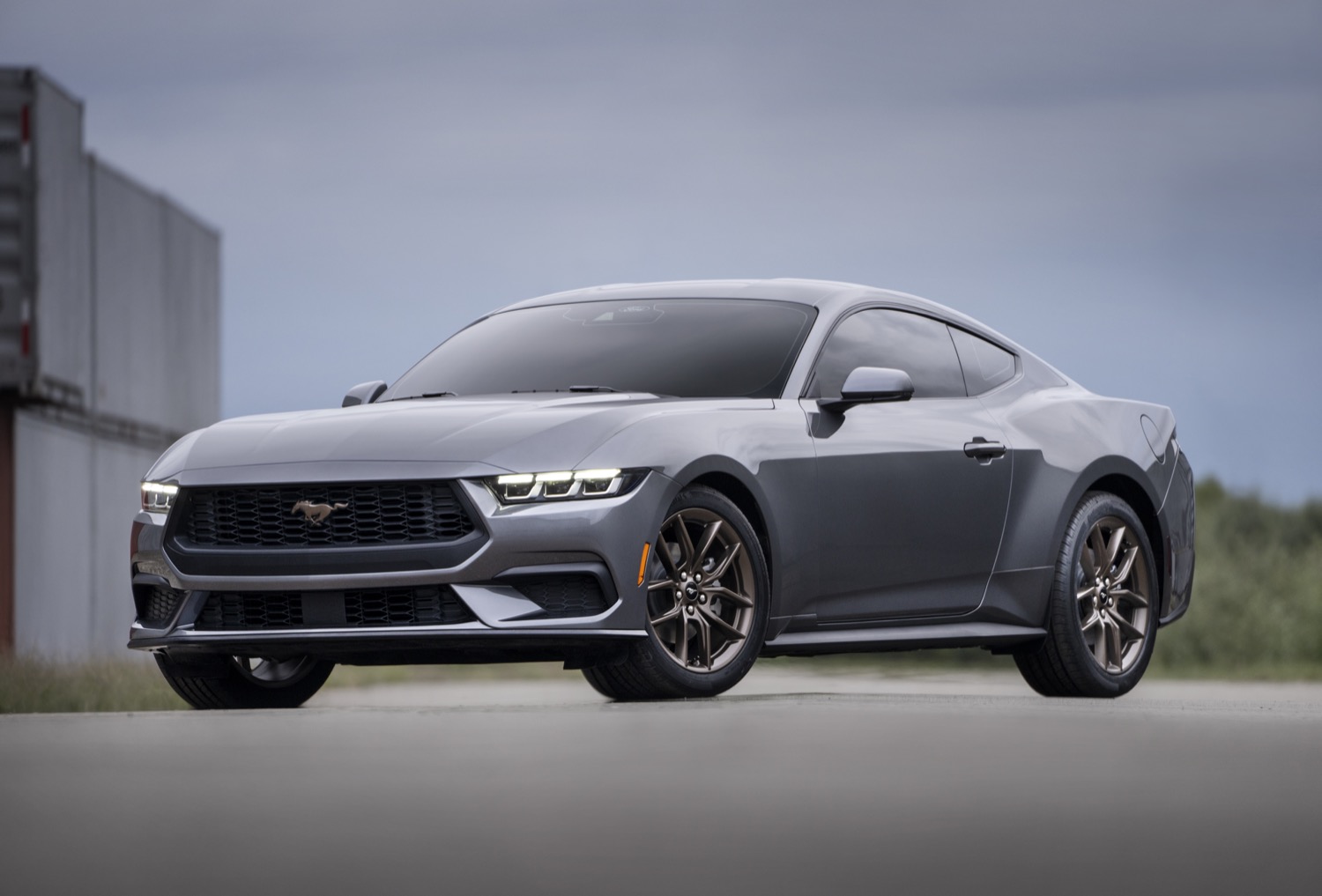 Via Ford Authority
2.3L EcoBoost Engine History
Those privy to the fine details of Ford engine design and development are well aware of the value the esteemed manufacturer places upon their EcoBoost four-cylinder engine platform. Initially unveiled in 2009, the Ford EcoBoost has become nearly as iconic and deeply rooted as any of Ford's emphasis on modular concepts.
The EcoBoost engine platform materialized at a time in which most domestic automakers were looking to reestablish and reaffirm their identities. Fresh off of the financial collapse of 2008, Ford sought to offer consumers something new, and outwardly compelling. They settled upon rolling out an entirely new engine platform, centered around achieving unparalleled output from a four-cylinder mill, while still maintaining respectable fuel economy.
Within a matter of only a few brief years, a multitude of Ecoboost variants had entered the market. Ford offered their new powerplant in several distinct displacements, including 1.5L, 1.6L, 1.8L, 2.0L, 2.7L, and 3.5L. However, perhaps no addition to the EcoBoost engine platform netted quite as much interest as the 2.3L variant, which first found its way beneath the Mustang's hood in 2015.
2.3L Ecoboost Engine Specifications and Details
The 2.3L GTDI EcoBoost features an all-aluminum engine block and cylinder head and comes equipped with a twin-scroll turbocharger. According to Ford, this turbocharger has shed some of its earlier weight for the 2024 model year, though the exact extent of this weight reduction is not overtly publicized.
True to its standard configuration, the 2024 EcoBoost retains a 2.3L displacement value. However, significant redesign over prior production has seen the EcoBoost take on new bore (84mm) and stroke (102mm) measurements. The EcoBoost has also seen an uptick in compression, which is now officially rated at 10.6:1.
Though modified from its previous form, the 2.3L Ecoboost still utilizes many rotating assembly components that are identical, or similarly constructed to those used in earlier production. The EcoBoost relies upon the use of a 4340 steel crankshaft, and high-performance pistons, secured to their respective connecting rods with fully floating wrist pins.
Via Ford Muscle
Moving topside, the 2.3L EcoBoost, utilizes upside valves (30mm exhaust/32.5 mm intake), all of which correspond to high-performance valve seats. Exhaust flow is further aided through the implementation of a unitized exhaust manifold-to-head design, wherein the EcoBoost's exhaust is hard-mounted to the engine's cylinder head. This cylinder head is specifically designed to incorporate Ford's newly implemented port/direct fuel injection system, which largely mirrors that utilized in "Coyote" V8 production.
All totaled, Ford's newly revised 2.3L EcoBoost proves to be every bit as hearty as the storied automaker claims it to be. In its most recent configuration, the 2.3L EcoBoost produces 315 horsepower, and 350 lb/ft of torque, propelling the 2024 Mustang to top speeds in excess of 150 MPH. At the very least, those previously still in doubt of the validity associated with a non-V8 Mustang, should now be silenced where they stand.
2.3L Ecoboost Engine Specs Index
Horsepower: 315 hp @ 5,500 rpm
Torque: 350 lb.-ft @ 3,000 rpm
Compression Ratio: 10.6:1
Displacement: 140CI (2.3L)
Cylinder Bore: 3.30″ (84mm)
Stroke: 4.01″ (102mm)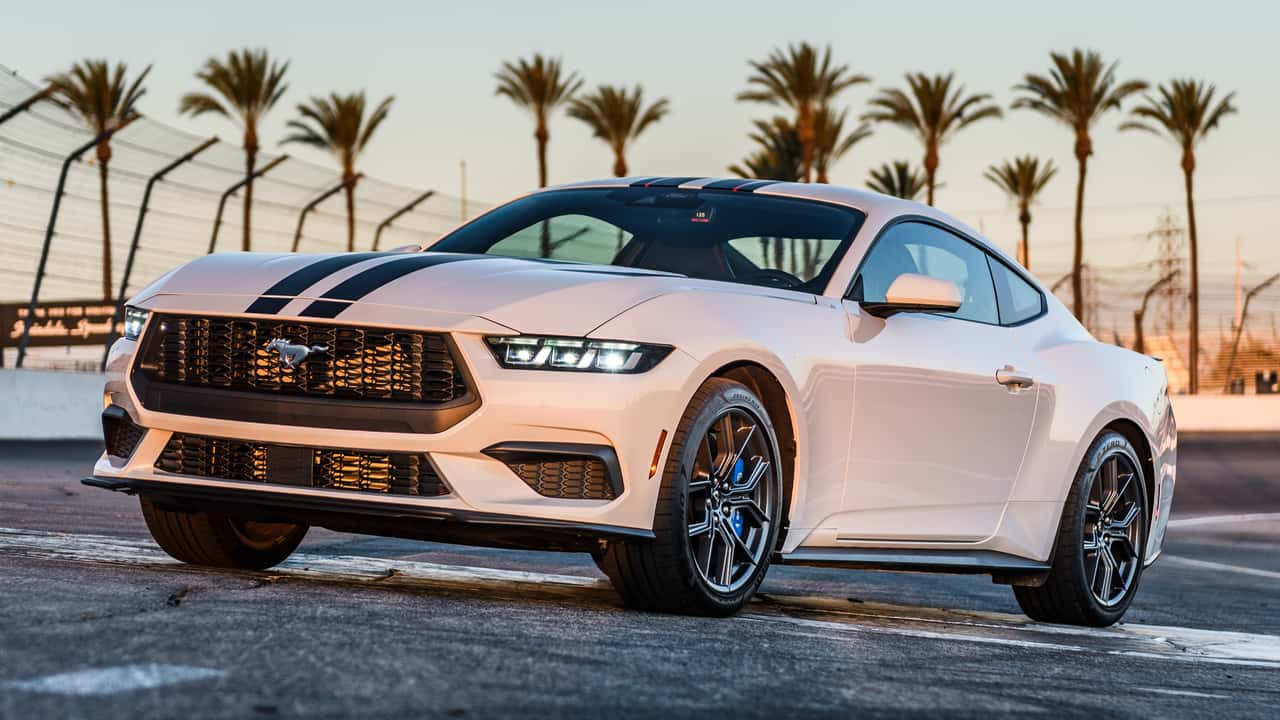 Via Motor 1
2.3L Ecoboost Engine Additional Uses
Though the Mustang serves as the most prominent use of the 2.3L GTDI I4 to date, Ford has equipped a number of additional models with this particular EcoBoost variant as well. The Lincoln MKZ was first optioned to include the EcoBoost in 2015, mirroring the initiation of this powerplant into the Mustang lineup during the same model year.
The following vehicles have all utilized the 2.3L EcoBoost, in recent production.
Ford Explorer
Ford Ranger
Ford Focus RS/ST
Lincoln Corsair
Small But Mighty
Though it is quite natural to think of the Mustang as a vehicle rooted in V8 performance, there are more than a handful of reasons to consider the 2.3L GTDI I4 as an equally suitable counterpart to larger displacement powerplants within the Mustang stable. In fact, the 2.3L EcoBoost dishes out similar output and performance metrics to many of the most famed Mustang engines of the foregone era, with only half as many cylinders.
Simply put, even the bulk of Mustang owners who opt for the purchase of a larger displacement engine, can still respect the 2.3L GTDI for the potent punch that it packs, despite its subdued footprint. For this reason, it would be no surprise if Ford continues to build upon this remarkable engine platform now, and well into the future.