2022 Ford Mustang Mach 1 Overview
The 2022 Mustang Mach 1 serves as a sportier, more performance-driven variant of the line's long-standing GT offshoot. With additional horsepower thundering beneath its hood, and a wealth of new tech online, the Ford has positioned the Mach 1 as the ideal stop-gap between their standard GT and Shelby offerings.
Powered by Ford's now-infamous 5.0L Coyote V8, and equipped with MagneRide dampers, the 2022 Mach 1 is equally adept at conquering the track, as it is the streets. This notion is further exemplified through Ford's selection of a heavy-duty radiator, and numerous system-specific coolers when outfitting the Mach 1.
The 2022 Mustang Mach 1 is also modeled to showcase an innately aerodynamic form, complete with a number of features specifically designed to optimize the rate of downforce acting upon the car itself. Aside from this, the Mach 1 is also quite striking to look at, as a look of ample aggression comes standard.
Not to be overlooked is the Mach 1's interior, which is equally as impressive as its external facade. With color-accented seats, premium trim, and a custom instrument panel, it is only natural to feel as if you are riding in the lap of luxury.
| | |
| --- | --- |
| Model | 2022 Ford Mustang Mach 1 |
| Generation | 6th Generation Mustang |
| Type | 2 Door |
| Body Styles | Coupe |
| Engines | 5.0L Ti-VCT V8 Engine |
| Original Price | $56,270 (Base Coupe), $58,365 (Premium) |
| Units Produced | TBD |
Background & Details
There has been no shortage of classic Mustangs produced since the line's initial unveiling in 1964. Many of these model derivatives have been given special titles, thereby separating them from the standard Mustang coupes of the era. One such specialty Mustang model that has received its fair share of fanfare over the years is the Mach 1.
First introduced in 1969, the Mach 1 served as a more boisterous stablemate to the GT-derived Mustangs of the era. The Mach 1 designation survived into the 1970s, before ultimately being nixed in the face of growing environmental consciousness, and the heightened scrutiny levied against performance cars of the day. Additionally, the Mach 1 was briefly reissued in the early 2000s, only to again fade into obscurity soon thereafter.
Most recently, the Mach 1 was re-released as part of Ford's current bid to expand its high-performance profile. Achieving the same rated output as the previously issued Mustang Bullitt, and borrowing a notable amount of tech from parallel Shelby production, the Mach 1, in its latest format, quickly drew significant fanfare.
Though the 2022 Mustang Mach 1 has taken a small hit in terms of its rated output, at the hands of increasingly stringent emissions standards, any negativity surrounding this point has been offset through the addition of several new appearance packages and available features. As a result, sales of the Mach 1 have remained quite favorable.
2022 Ford Mustang Mach 1 Models & Packages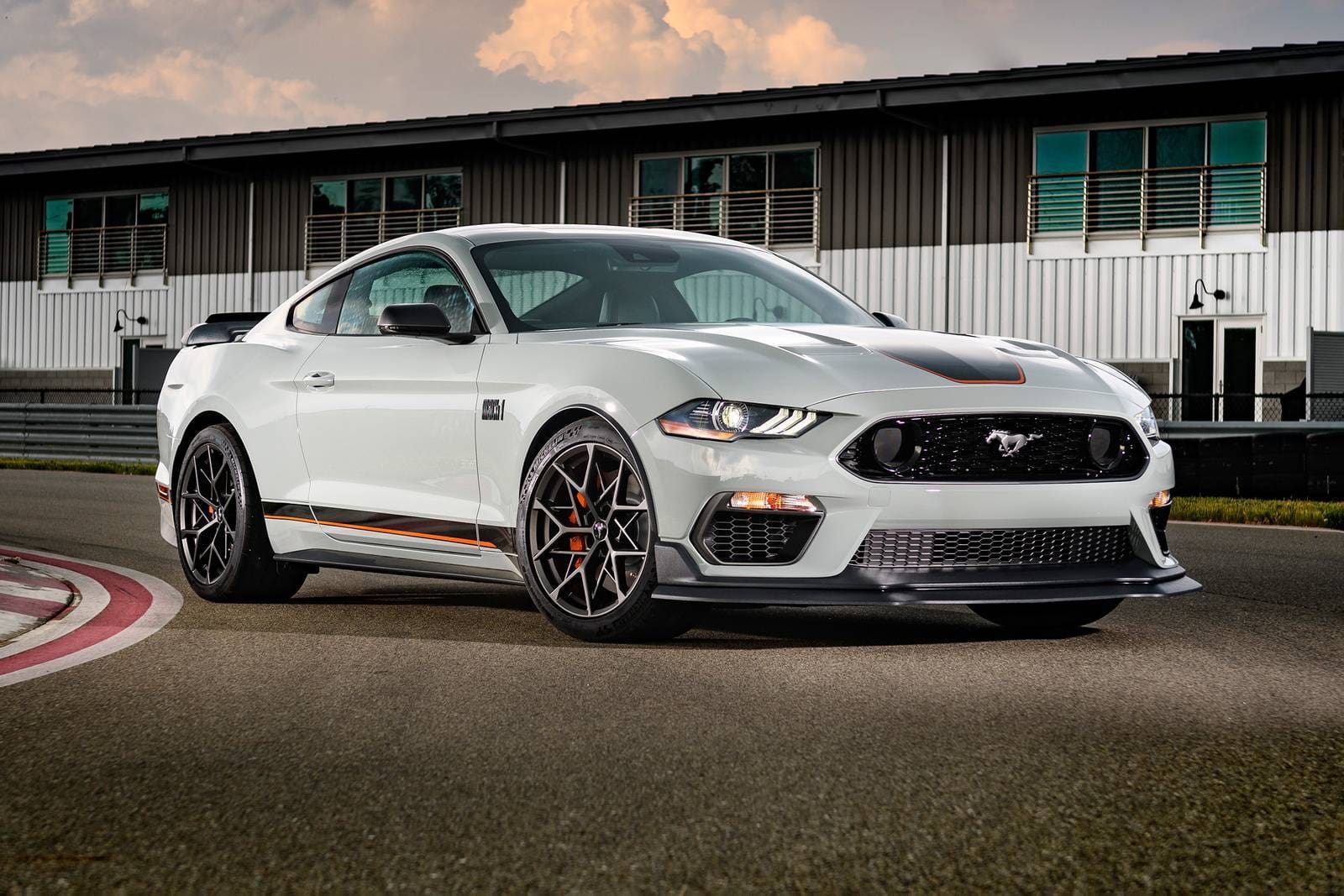 2022 Mustang Mach 1 Coupe
As previously mentioned, the 2022 Mustang Mach 1 comes equipped with Ford's ultra-popular 5.0L Coyote V8, paired with a consumer's choice of transmission. Available transmissions include a 6-speed Tremec manual, and a 10-speed SelectShift automatic. A set of 3.73 Torsen rear gears also come standard, though consumers can opt for a set of 3.55 Torsen gears, if they so choose.
Additional standard equipment includes Brembo six-piston front calipers, heavy-duty front springs, MagneRide suspension components, and a high-flow radiator. The use of a unique driver interface also allows motorists to select between several different driving modes.
Externally, the Mach 1 is every bit as striking as its late 1960s predecessors. The Mach 1 features unique upper and lower grille segments, custom inlaid body vents.
2022 Mustang Mach 1 Premium
The Mach 1, in its Premium Package format, features upgraded body paneling, much of which is aerodynamic by design. The selection of this package also gives consumers the choice of adding the Mach 1 Appearance package and the Mach 1 Elite package.
This package includes the following:
Leather upholstery
Aluminum foot pedals
Heated and ventilated front seats
Heated steering wheel
Driver-seat memory
Mach 1 Enhanced Security Package
The 2022 Mach 1 can be ordered including Ford's Enhanced Security Package. This package aims at curbing theft, by providing additional security measures where it matters the most.
This package includes the following:
Electronic-locking center console
Wheel locking kit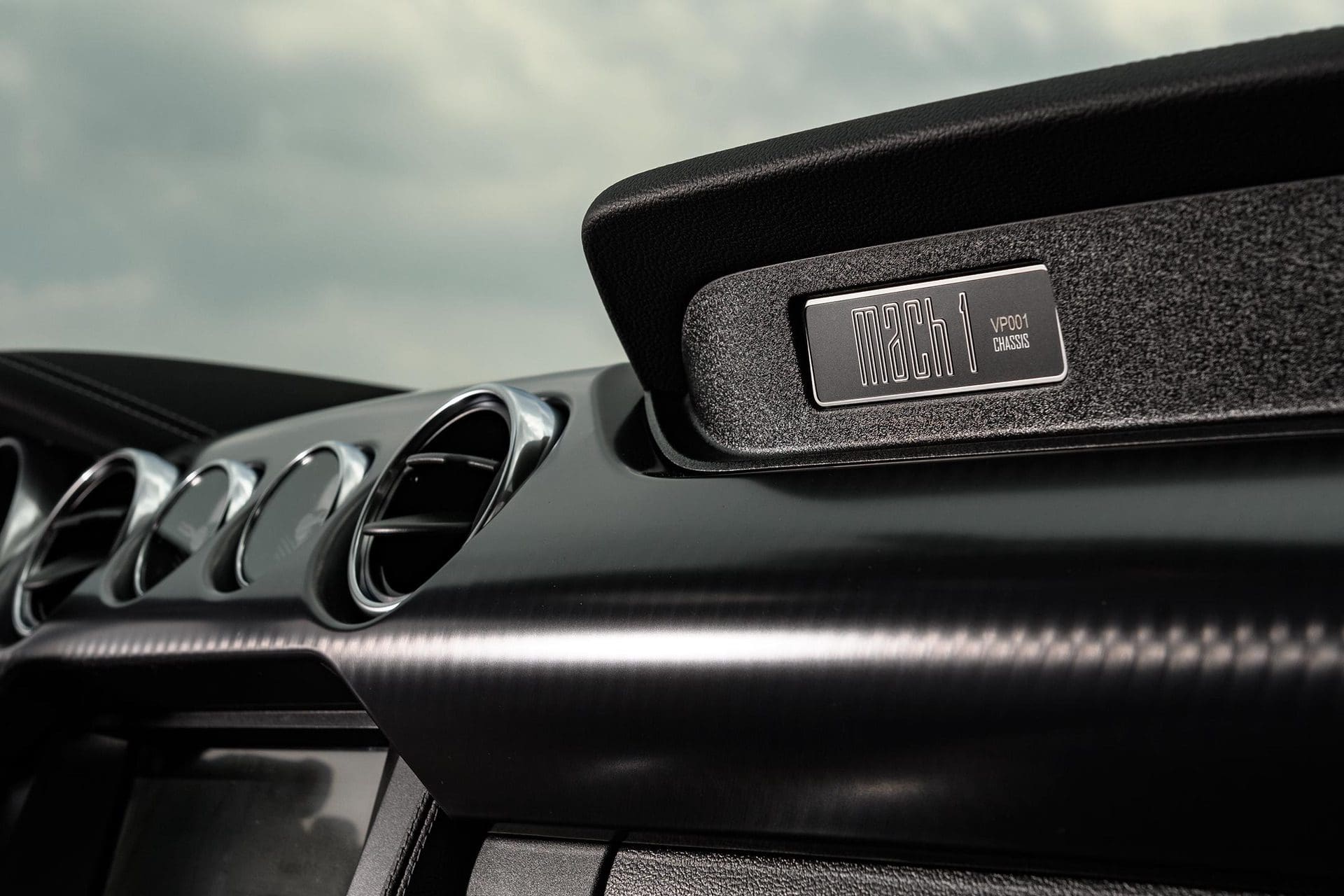 Mach 1 Appearance Package
The Appearance Package makes heads turn by amping up the Mach 1's cosmetic appeal. This is the only package that allows consumers access to otherwise unavailable paint, striping, and trim options.
This package includes the following:
Fighter Jet Gray exterior color offered
Ebony/Orange interior with unique orange front seatback accent color
Unique orange brake calipers
Unique black/orange exterior hood and side stripe
Mach 1 Elite Package
Selection of the Elite Package includes a comprehensive list of audio system upgrades, while also providing the Mach 1 with premium security enhancements.
This package includes the following.
B&O sound system
12-speakers w/ subwoofer in trunk
CD player
HD radio
Electronic-locking center console
Wheel locking kit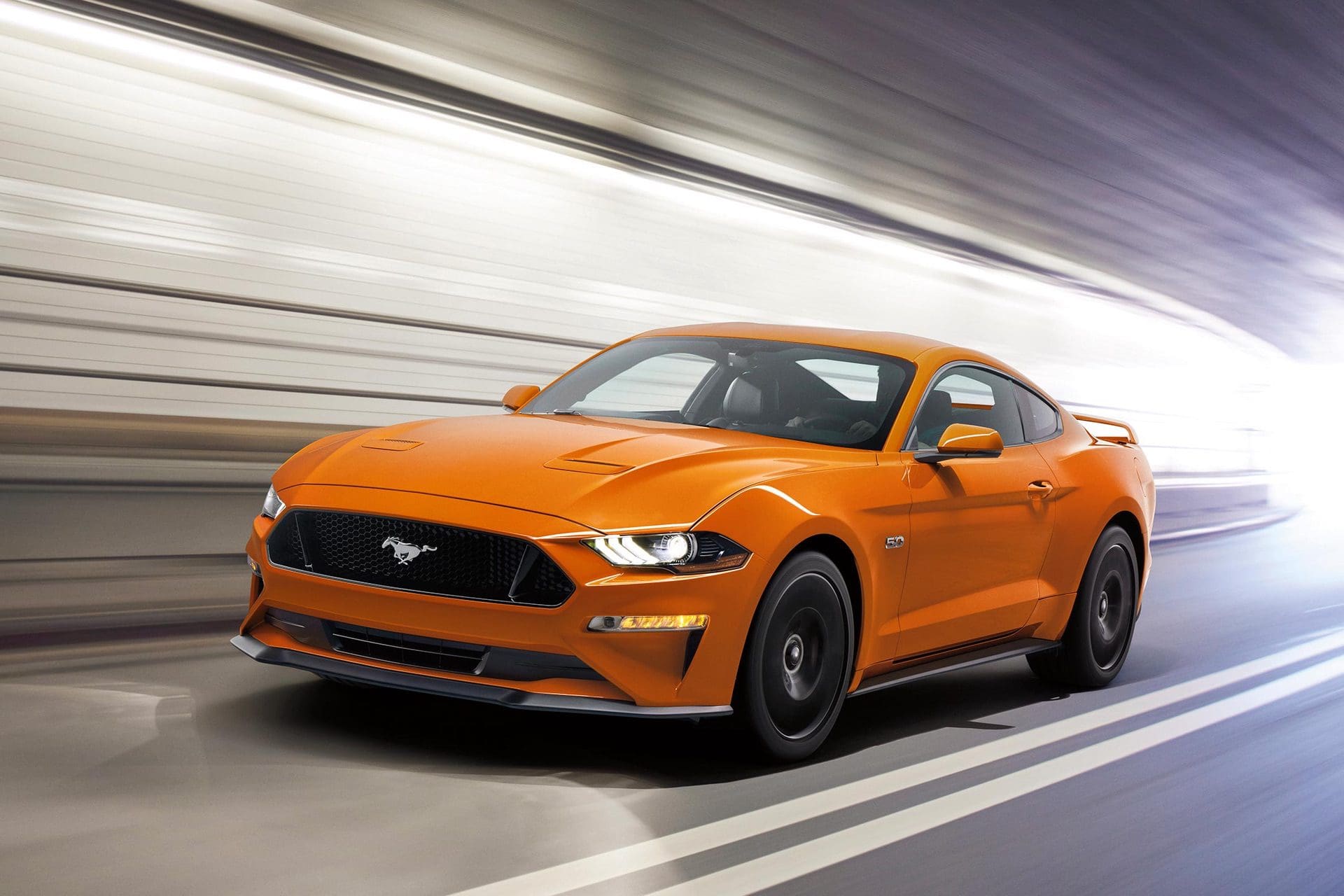 Mach 1 Equipment Group 700A
The selection of the Equipment Group 700A package gives the consumer a host of upgraded interior amenities. The majority of these upgrades are aimed at enhancing the Mach 1's eye appeal, although a number of the features also provide functional value as well.
This package includes the following:
Aluminum foot pedals
Climate controlled
Heated steering wheel
Seat back map pockets (not available with RECARO® seats)
Memory: driver seat (three (3) settings)
Mirrors and ambient lighting preset
Premier trim with color accent group, which includes:

Accent stitched center console lid
Wrapped knee bolsters with accent stitch and shifter boot
Color-accented leather-trimmed seats
Premium floor mats with accent stitch
Unique color-accented door-trim
Wrapped center console with accent stitch
Mach 1 Handling Package
The Handling Package equips the Mach 1 with upgraded steering and suspension components, as well as high-performance wheels and tires, aimed to amplify the vehicle's cornering capabilities.
This package includes the following:
19″ X 10.5″ (front) and 19″ x 11″ (rear) tarnished dark-painted aluminum wheels
305/30R19 (front) 315/30R19 (rear) tires
Adjustable strut top mounts
Performance rear spoiler with gurney flap
Performance front aero splitter
Revised chassis tuning
Rear-seat—split-bench, folding
Black front-wheel lip molding
Specifications, Options & Detailed Stats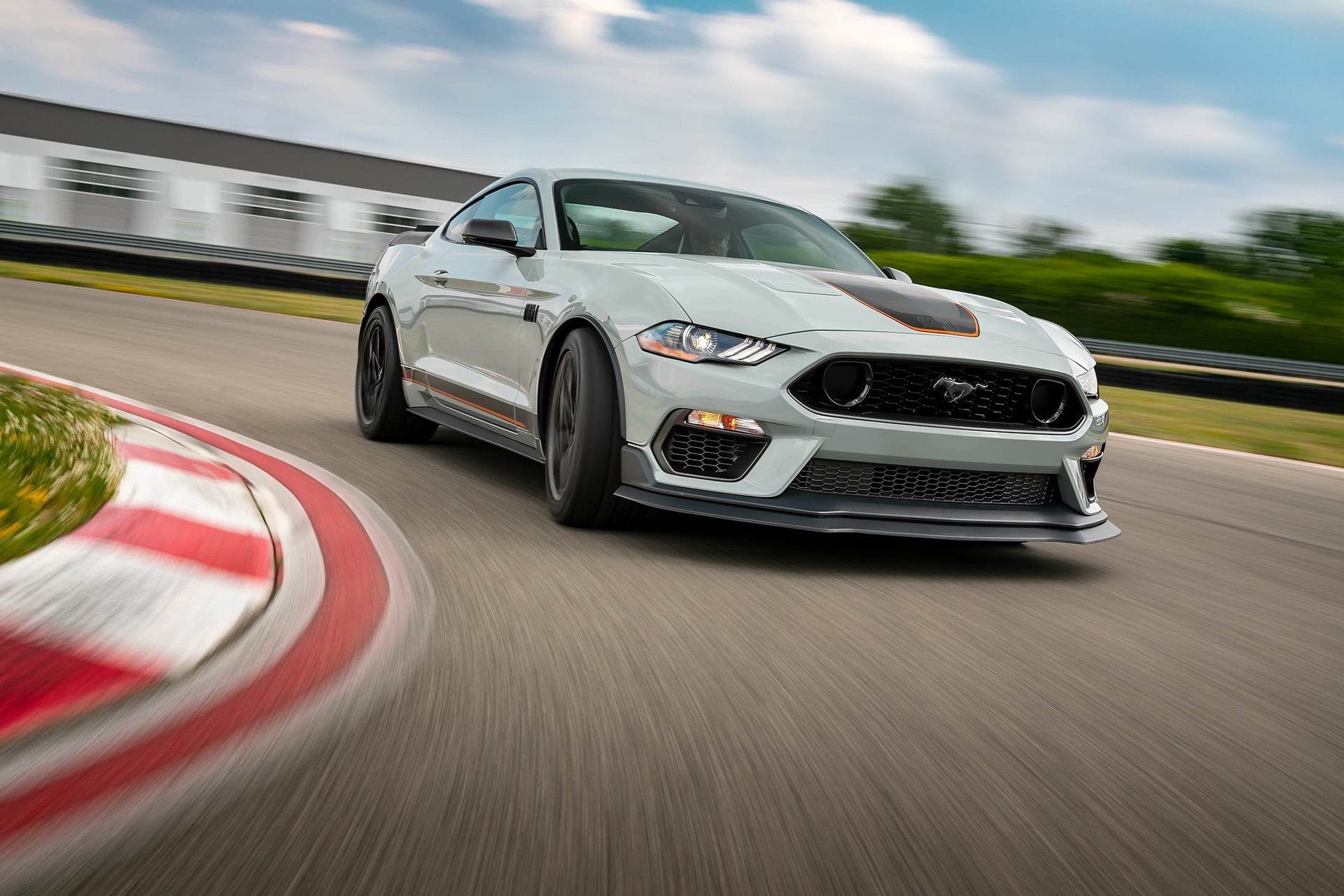 2022 Ford Mustang Mach 1 Options and Pricing
| | | |
| --- | --- | --- |
| Options | Description | Retail Price |
| Base Model | 2 Door Mach 1 Coupe | $56,270.00 |
| Base Model | 2 Door Mach 1 Premium | $58,365.00 |
| 10 Speed Auto-Transmission | | +$1595.00 |
| Enhance Security Package | | +$500.00 |
| Appearance Package | | +$1,250.00 |
| Elite Package | | +$1550.00 |
| Equipment Group 700A | | +$2095.00 |
| Handling Package | Available on 6-speed and 10-speed transmissions | +$4,500.00 |
2022 Ford Mustang Mach 1 Exterior & Interior Colors
The 2022 Ford Mustang Mach 1 is available in the following 9 colors:
Shadow Black
Oxford White
Iconic Silver
Race Red
Grabber Blue
Cyber Orange
Dark Matter Gray
Mischievous Purple
Eruption Green
The 2022 Mach 1's interior is available in the following colors or color combinations:
Ebony Cloth
Ebony Leather
Ebony w/ Orange Accents
Ebony w/ Dove Accents
There are also 2 stripe options available for the 2022 Mach 1, the specifics of which are as follows.
The Black Stripe w/ White Accent kit is available in combination with these colors:
Cyber Orange
Mischievous Purple
Grabber Blue
Race Red
Eruption Green
The Black Stripe w/ Red Accent kit is available in combination with these colors:
Shadow Black
Iconic Silver
Oxford White
Dark Matter Gray
The Mach 1 Appearance Package offers consumers the choice of Fighter Gray exterior color with orange accents.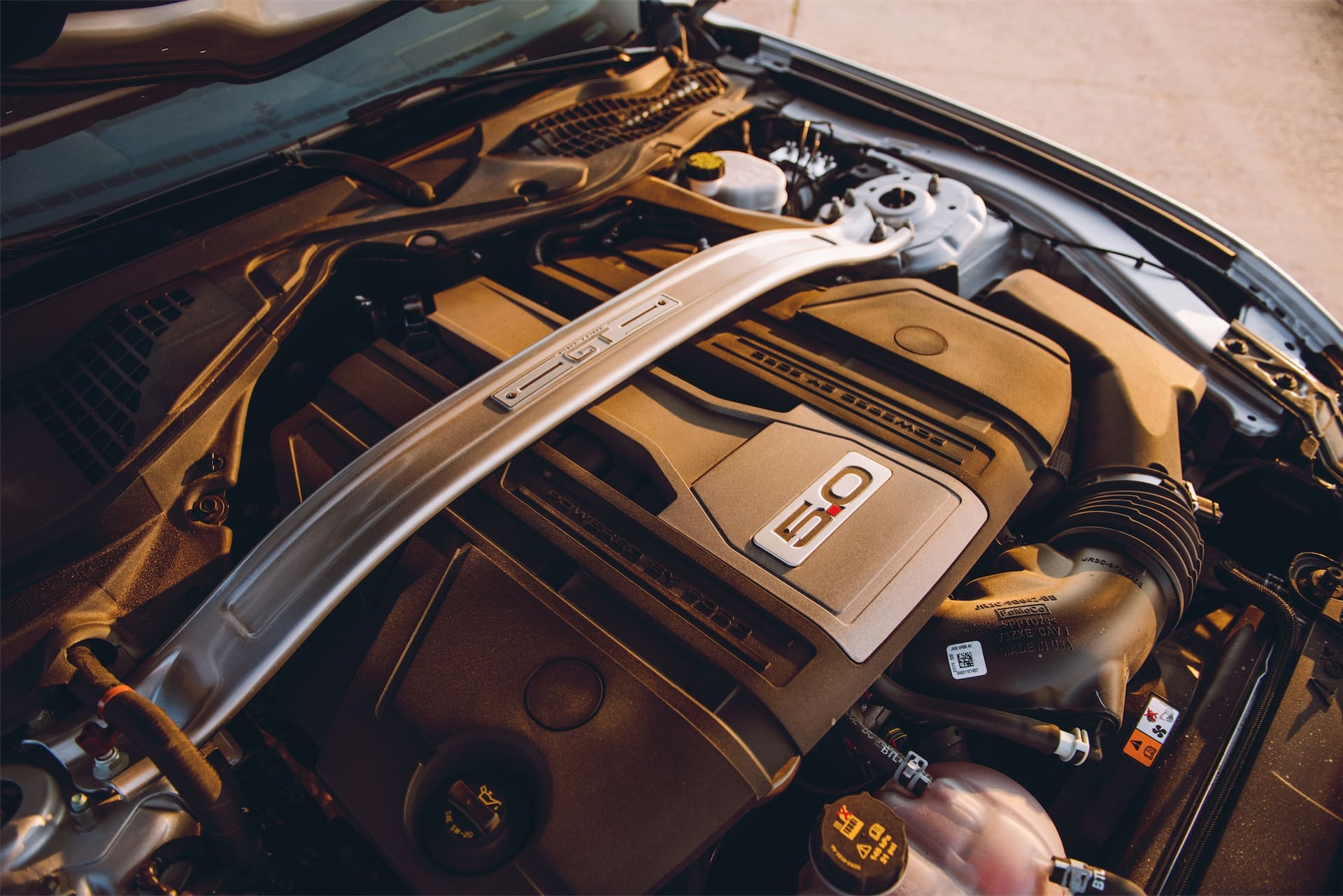 2022 Ford Mustang Mach 1 Engine Specifications
Quite fittingly, the 2022 Mustang Mach 1 comes equipped with one of Ford's most notorious V8 powerplants to date, the 5.0L Ti-VCT Coyote. This dual overhead cam, all-aluminum V8 utilizes Twin Independent Variable Cam Timing to aid in combustion efficiency, thereby aiding overall performance, while still keeping fuel consumption in check.
Ford's Coyote V8 features cylinder bores that measure 92.2 mm in diameter, with an effective stroke of 92.7 mm, while operating upon an 11.0:2 compression ratio. These figures prove ample enough for the 5.0L Coyote V8 to muster a total rated output of 480 horsepower (7,000 RPM) and 429 lb-ft of torque (4,600 RPM).
At the current moment, all 5.0L Coyote V8 engine production takes place at Ford's Windsor, Ontario, manufacturing facility.
Engine Type
5.0L Ti-VCT V8 Engine
Horsepower
480 @ 7,000 rpm
Torque
420 @ 4,600rpm
Compression Ratio
11.0:2
Bore and Stroke
92.2 x 92.7 mm
Fuel Delivery
Sequential Multi-port Electronic Fuel Injection
Exhaust
Bright 4″ Dual Exhaust tips
Fuel Consumption
15city/23hwy/18combined
Transmission Type
6-speed manual with Rev Matching/ 10 Speed

SelectShift Automatic w/ Paddle Shifters

Engine Block Material
Aluminum
Cylinder Head Material
Aluminum
2022 Ford Mustang Mach 1 Dimensions & Weight
| | |
| --- | --- |
| Wheelbase | 107.1 inches |
| Exterior Length | 188.5 inches |
| Exterior Height | 54.3 inches |
| Width Excluding Mirrors | 75.4 inches |
| Trunk Capacity | 13.5 cu.ft. |
| Curb Weight (manual/auto) | 3,868/3913 lbs |
| Gas Tank Capacity | 16 gal |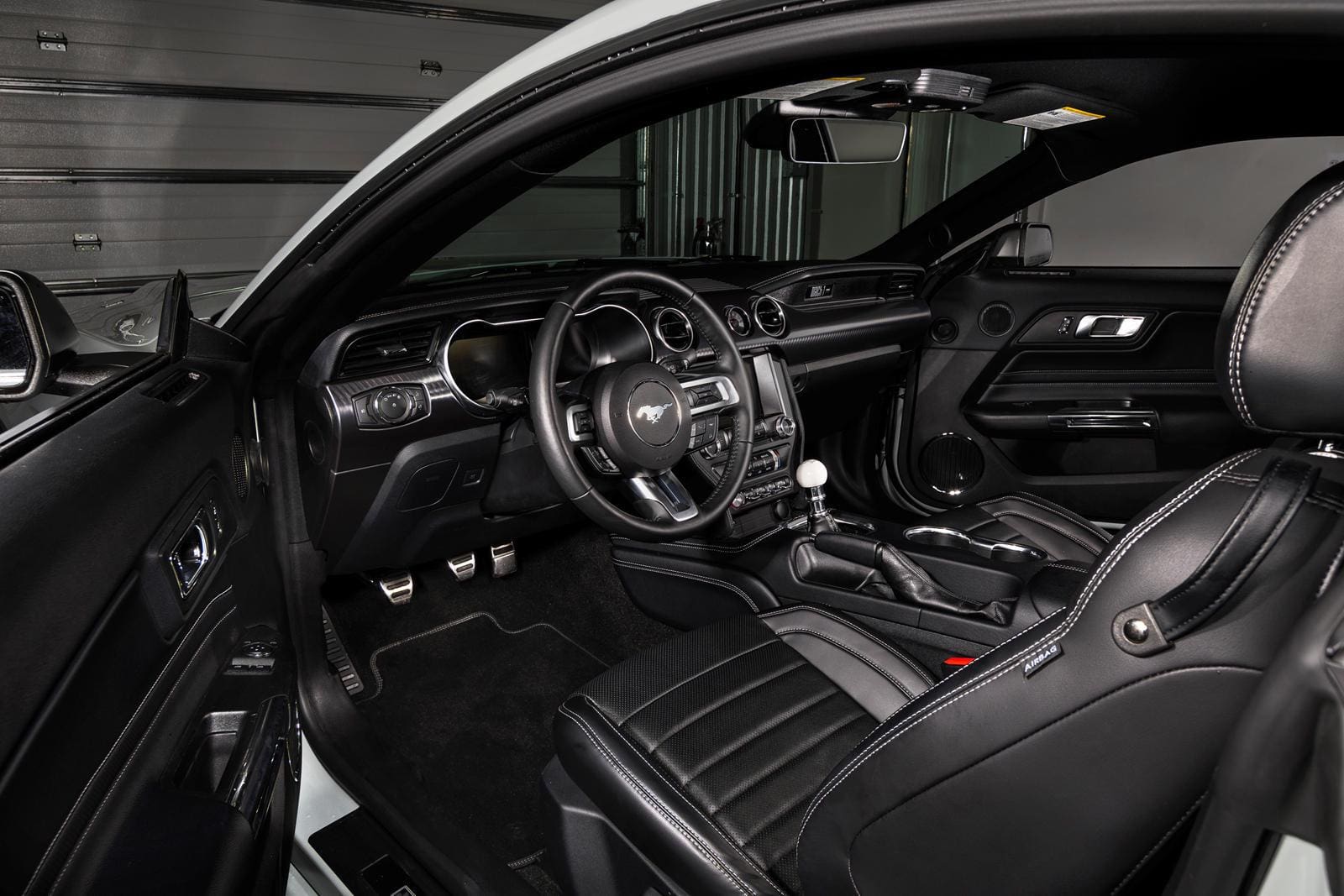 2022 Ford Mustang Mach 1 Performance
Below we have 0-60 mph, top speed, quarter-mile, and other performance times for the 2022 Mustang Mach 1 range, where they are available.
| | |
| --- | --- |
| 0-60 mph | 4.2 sec |
| 0-100 mph | 9.1 sec |
| ¼ mile | 12.6 |
| Top Speed | 155 mph |
| Braking 60-0 | 96 feet |
2022 Ford Mustang Mach 1 Videos
We managed to find some great video reviews of the 2022 Mustang Mach 1, so definitely check those out.