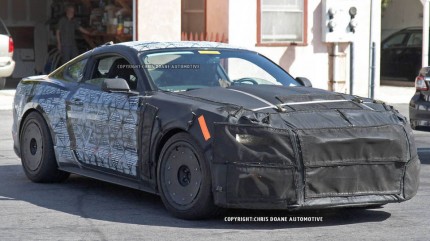 About a week ago in Santa Monica, California spy photographers captured what is believed to be the next SVT vehicle, the 2016 Shelby GT350. Not only did they get some good spy photos but they managed to shoot some video with a clear throaty exhaust note.
A few reasons why this could be the 2016 Shelby GT350. First off Ford is trying really hard to keep thewheels and brakes hidden not to give away any clues about what size rotors or calipers they have planned. Second just behind the front wheels, rear wheels and on the hood you will notice heat extractor vents which tells us this new SVT is gonna generate some heat. Lastly and the most convincing giveaway this is the new Shelby GT350 is the rpm tack has a higher redline of 6500 with an over-rev of 7000 rpm just like the 2014 Shelby GT500.
Check out more spy photos below and the video to decide for yourself.
Source: Road&Track