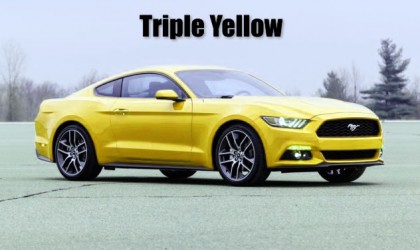 This time the leak came from Ford's own website as they posted some general details about the new 2015 Mustang including the color choices.  Your 2015 Mustang colors will be Triple Yellow, Race Red, Competition Orange, Deep Impact Blue, Ruby Red, Black, Magnetic Metallic, Guard Metal, Ingot Silver and Oxford White.
If you don't recognize what colors Magnetic Metallic and Guard Metal are you can check the color chart we have made below or we can just tell you they are a shade of silver, the most popular car color on the planet.
Ford's choice to go with three silver colors reflects what the public wants and we cannot complain as shades of silver have always looked good on a Mustang whether they are dark or light. Other colors returning for 2015 include Yellow which was last seen on the 2006 Mustang. Competition Orange will now be available to the masses as it was previously only available on the limited edition Boss 302 Mustang.
Check out the list of colors below along with a few images of what they might look like.
2015 Mustang Colors:
Triple Yellow
Race Red
Competition Orange
Deep Impact Blue
Ruby Red
Black
Magnetic Metallic
Guard Metal
Ingot Silver
Oxford White