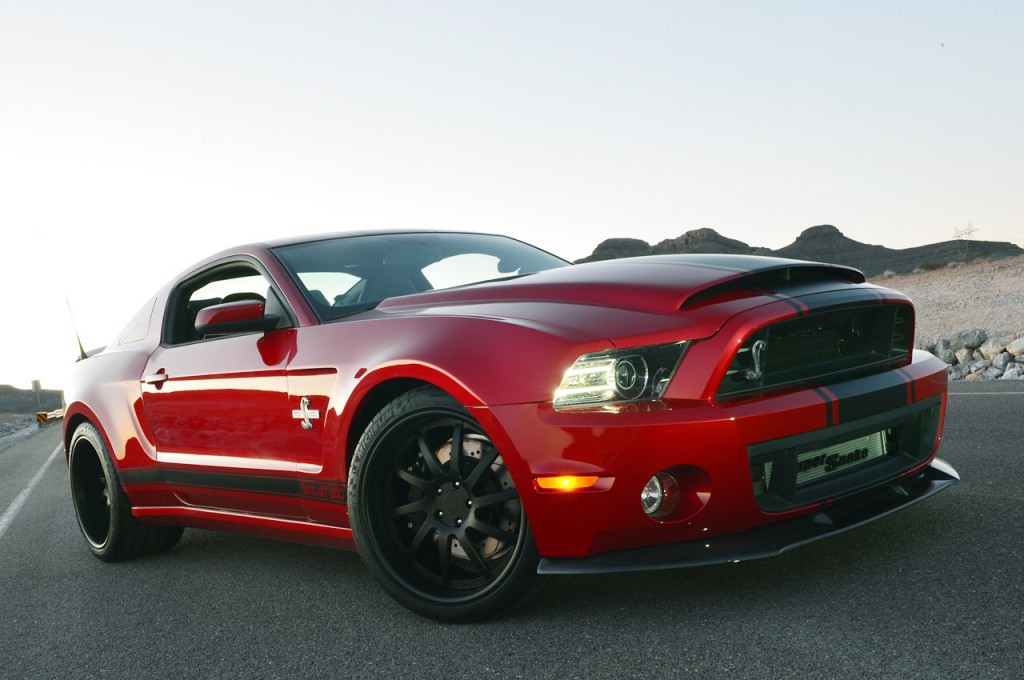 There was a lot of hype and buildup about the Shelby American debut in Detroit and they sure delivered with a new 2013 Shelby GT500 Super Snake 'Wide Body'.  The GT500 Super Snake Wide Body represents the pinnacle of what Shelby American has to offer in the post-title arena.
As an added option to its Super Snake post-title package lineup the 'Wide Body' option will allow for up to 13-inch rear and 10-inch front wheels.  The massive tires will help put all of the 850 horsepower to the pavement as it screams down the road like a true supercar.
The price for the 'Wide Body' option will run you $17,995 in addition to the $39,995 (850 hp) option for the Super Snake package.  Those prices don't include a base GT500 which can run you around $54,650.  All told expect to pay upwards of $112,000 for a 2013 GT500 Super Snake with the Wide Body option.  Not a bad deal if you consider other exotics with less horsepower cost over $200K.
Check out more photos below along with specifications.
2013 Shelby GT500 Super Snake 'Wide Body' Specifications
850 Horsepower Wide Body Street Edition
Shelby/Ford Racing Whipple 850 HP Supercharger – Black Finish (850 HP Package)
Shelby Performance Radiator
Shelby Performance Heat Exchanger
Shelby Performance Cooling Tanks
Shelby/Wilwood Front & Rear Brake Kit
Shelby Front Brake Duct Cooling Kit
20" Shelby Super Snake 3 Piece Billet Forged Wheels
Michelin Performance Tires
Shelby Upgraded Suspension Package
Shelby Rear Panhard Bar
Shelby Caster Camber Plate Kit
Shelby White Ball Short Throw Shifter
Shelby/Borla Axle-Back Muffler Kit
Shelby Super Snake Hood
Shelby Carbon Fiber Front Splitter
CSM Numbered Dash Plaque & Engine Plate
Super Snake Billet Aluminum Badging
Shelby Super Snake Fender Emblems
Shelby Faux Rear Cap
Shelby Deck Lid Lettering
Super Snake Stripe Kit (available in Gloss White, Matte Black, Silver or Azure Blue)
Shelby Super Snake Upper Mesh Grille Insert
Rear Quarter Window Side Scoops or Paint Matched Block-Offs
Billet Fluid Engine Cap Kit & Dip Stick
Interior A-Pillar Pod & Gauges
Super Snake Embroidered Headrest Covers (for non Recaro Seats)
Super Snake Lit Door Sill Plates
Shelby Wide Body Kit Conversion Kit (optional)
Shelby Wide Body Kit Rear Only Conversion (optional)
Shelby Aluminum Watts Link Rear Suspension (optional)
Shelby/Ford Racing Suspension Sway Bar Kit (optional)
Museum Delivery Program (Optional)
Source: [Shelby American]