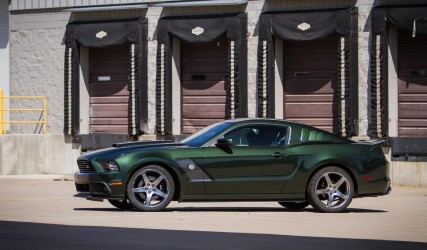 Last month Roush Performance unveiled their latest creation, the 2013 Roush Stage 3 Mustang Premier Edition in partnership with Sherwin Williams Automotive Finishes.  Both have had a long relationship on and off the track so it was natural they partner up for a limited run of Roush Mustangs.
Only 25 Stage 3 Premier Edition Mustangs will be built for 2013 with customers choosing between twelve premium colors like Black Diamond, Iridescence, Blue Bayou, Punch It Purple, Cabernet, V8 Red, Mat it Mango, Liquid Copper, Mean Green, Luminescent Lime, Launch it Lemon and Performance Pearl.
All 2013 RS3 Mustangs will feature a supercharged 5.0-liter V8 producing 565 horsepower and 505 ft-lb of torque.  An optional upgrade can bump horsepower to 625.
Below we have photos of a Blue Bayou and Mean Green Premier Edition RS3 Mustangs. Enjoy…