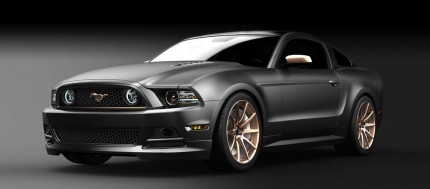 Ford Motor Company and the Specialty Equipment Market Association (SEMA) are teaming up for the first-ever SEMA Mustang build powered by Women.  Three concepts were submitted and the public was invited to vote for the one they would like to see built by a group of women volunteers.  The winning concept is known as "High Gear" and it was designed by Jennifer Seely of Ford.
Click below to listen to an interview with Seely as she discusses the inspiration and design philosophy behind High Gear.
Inspired by international products in categories such as jewelry, couture clothing and architecture, High Gear is meant to stimulate the senses by fusing luxury and power. Highlights include rose-gold chrome accents throughout the exterior and interior; satin-black body; plush, quilted suede seats and a leather-wrapped interior. Modifications will also be made to the engine, undercarriage, drivetrain and sound system.
"We appreciate our readers and fans helping us determine which concept will be used for this very exciting project," said Doug Evans, executive vice president of Source Interlink Media (SIM). SIM, a partner in the project, hosted the voting on several of its websites and will also host the physical build at its El Segundo, Calif., headquarters.
"The concept selected by everyone who voted is amazing," Evans added. "It will be very exciting to see the vehicle transformed in just eight short weeks by this dedicated group of women. The drive and talent this collaboration of women from the SEMA Business Network (SBN), Ford and Source Interlink Media brings to this project is nothing short of phenomenal."
As title sponsor of the project, Ford donated a 2013 Ford Mustang GT. Women members of SBN will perform the hands-on modifications from July to August. The finished car will debut at the 2012 SEMA show in Las Vegas, then be auctioned on eBay to raise money for the SEMA Memorial Scholarship Fund. The fund is dedicated to fostering the next generation of automotive aftermarket leaders and innovators.
The SBN Vehicle Build Task Force is comprised of Task Force Chair Rose Kawasaki (Exports International), Project Vehicle Coordinator Sherry Kollien (Ford), Assembly Coordinator Kellie Colf (eTool Developers), PR/Media Coordinator Camee Edelbrock (Schiefer Media Inc.) and Product Coordinator Susan Carpenter (JR Products). Advisors include Mike Spagnola (Street Scene), Joel Ayres (Bedslide) and Marla Moore (Hypertech).
See all three concepts below.
Source: Ford Motor Company