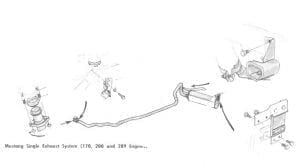 We can finally put to rest the rumor of the 2011 Shelby GT500 getting a twin-turbo 5.0-liter motor as Mike Harrison, Ford's chief engineer for the 5.0 and 6.2-liter V-8 engines made it clear the engine is not apart of the Blue Ovals future.
The rumor floating around in recent months was the 2011 Shelby GT500 would receive a twin-turbo 5.0-liter V-8 of sorts to replace the current 5.4-liter supercharged V-8 in the 2010 Shelby GT500.  In a recent interview with a member of AutoBlog.com's staff Mr. Harrison explains such an engine would be impossible for Ford engineers to fit under the hood of the current generation S197 Mustang as the engine bay is already stuffed full with the 5.0-liter motor.  With the 5.0 motor taking up virtually all the space under the hood there would be no room for a twin turbo setup to be mounted.
I guess the new aluminum block for the 5.4-liter V-8 will have to do for 2011 Shelby GT500 after all.
Source: AutoBlog.com