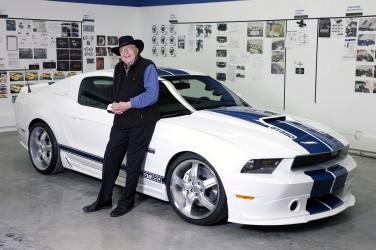 Barrett-Jackson and Shelby American are teaming up again to sell another piece of history.  This time they will auction off a 2011 Shelby GT350 with serial #350 at the Palm Beach BJ event in April.  Following a successful unveiling of the supercharged 2011 Shelby GT350 at the BJ event in January Shelby American will auction a very signifigant VIN to the public at No Reserve.  The 8th Annual Barrett-Jackson Collector Car Auction in Palm Beach will take place April 1-3 at the Americraft Expo Center at the South Florida Fairgrounds.  Like previous Barrett-Jackson events the SPEED channel will broadcast more than 22 hours of live, high-def coverage.
The 2011 Shelby GT350 is a post-title package available exclusively through Shelby American.  Customers wanting to purchase a 2011 Shelby GT350 will have to first purchase a 2011 Mustang GT at a local Ford dealership and than arrange shipping to Shelby's Las Vegas facility for conversion.  The new Shelby GT350 post-title package has an MSRP of $33,995 not including the 2011 Mustang GT.
For more on the sale of serial #350 check out the press release below.
Press Release:
Shelby American, a wholly owned subsidiary of Carroll Shelby International Inc. (PINKSHEETS: CSBI), will sell serial number 350 2011 GT350 at No Reserve during the 8th Annual Barrett-Jackson Collector Car Auction in Palm Beach. The American muscle car will be part of the automotive lifestyle event April 1-3, 2010, at the Americraft Expo Center at the South Florida Fairgrounds. SPEED will broadcast more than 22 hours of live, high-definition TV coverage of the auction.
"Over the past several years, we've offered several prototypes, concepts and special serial numbered contemporary collector cars to the public, which has been a significant break from the traditional approach that car makers once followed with such important cars," said Barrett-Jackson Chairman/CEO, Craig Jackson. "At one time, it was common for these cars to be destroyed or sold to industry insiders instead of being available to the general car collector hobby. The automakers have begun to turn to us as the best, most democratic way to offer these cars."
The Shelby team unveiled a supercharged concept version of the Mustang-based 2011 Shelby GT350 at the Barrett-Jackson Auction in Scottsdale in January to honor the 45th anniversary of the first GT350 and first Shelby big block Cobra. It was an immediate hit when Carroll Shelby and his team brought back the famous nameplate after more than 40 years.
"There was a great deal of pent up demand for the first GT350 since the 1970 model year," stated Amy Boylan, president of Shelby American. "We chose to introduce the car at Barrett-Jackson because the people who attend their events are among the most passionate car enthusiasts in the world. Thus, we will reward that loyalty by offering a very special serial number to their bidders."
The Shelby GT350 is a post title program; a customer purchases a car from a local Ford Dealer, which is turned into a GT350 by the Shelby American Team. A limited number will be built in the 2011 model year. A Ford Mustang GT can be dropped shipped by a Ford dealer to Shelby's Las Vegas facility for conversion or a customer can arrange to have a properly specified car transported to the factory.
"Because 2011 Ford Mustang GT production will begin about the same time as the auction, we're going to sell the rights to the serial number 350 car," added Steve Davis, president of Barrett-Jackson. "The GT350 will be built in Las Vegas when the base car becomes available and include a host of important options. In addition, Carroll said that he will personally drive the car before it is delivered to the lucky bidder at the Shelby American factory. This will truly be a special, milestone collector car."
Barrett-Jackson's annual Palm Beach event continues to grow in importance and has become a fixture in South Florida. Last year, Barrett-Jackson recorded more than $20 million in sales and welcomed over 55,000 attendees in Palm Beach; the company also raised more than $1.5 million for various local and national charities during the 2009 Palm Beach auction.
Customers interested in a Shelby GT350 should contact Roger Sorel at (702) 942-7325 or log onto www.gt350.shelbyamerican.com.