The 2011 SEMA show runs from November 2-5 and this year Ford will showcase four Mustangs in their booth along with a host of other customized Ford vehicles.  Those four vehicles include a 2012 Mustang by H&R Springs, a 2012 Mustang by MRT Performance, the Boy Racer 5.0 from Creations n' Chrome and the widebody 2012 Mustang GT by Forgiato Wheels which we had some early spy shots off.
These will not be the the only Mustangs at the SEMA show so stay tuned for an onslaught of what the show has to offer.  We will try and keep you up to date with each and every Ford Mustang at the show.
For a description of each Mustang in the Ford booth check below.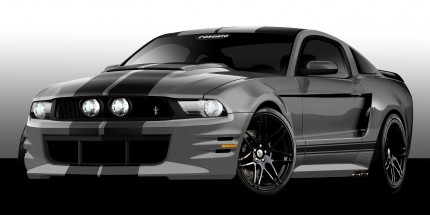 2012 Ford Mustang by Forgiato Wheels
This Mustang GT offers a staggered wheel setup, with three-piece 21-inch front wheels and 22-inch rear wheels. A TS Designs wide body fabrication kit, 3dCarbon Boy Racer body kit and matte pearl silver PPG paint help set it apart from the rest. In addition, a Vortech supercharger ensures the performance matches up to the aggressive appearance.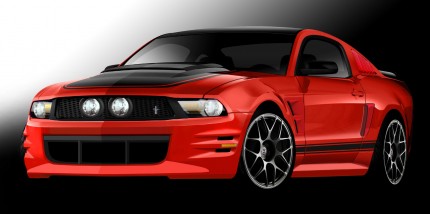 2012 Ford Mustang by Creations n' Chrome
With Spectra Chrome Boy Racer Red spray-on paint and Autosport Dynamics carbon fiber hood, roof and trunk, this Mustang makes the ultimate style statement. It proves it can't be beat on the track with a Creations n' Chrome chromoly roll cage, HRE Performance 18-inch forged wheels and Vortech supercharger. A race-inspired custom interior rounds out the upgrades.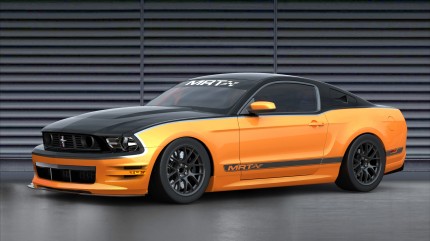 2012 Ford Mustang by MRT Performance
With performance and style in mind, the TKO Mustang by MRT Performance offers a complete package. A ProCharger supercharger, MRT stainless steel MaxFlow h-pipe and half-back exhaust system, and H&R coilover performance suspension deliver on performance. An MRT custom hood, MRT custom paint accents and Sparco race seats bring the race-ready style to life.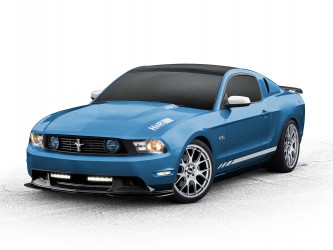 2012 Ford Mustang by H&R Springs
This Mustang GT offers superior performance with a Flowmaster stainless steel exhaust, Edelbrock E-Force supercharger and Pirelli P Zero front and rear tires. The chassis also receives an upgrade with an H&R Springs Coil RSS sport suspension, front and rear sway bars and Triple C camber adjustment bolts. The exterior features a Street Scene Equipment body kit and custom paint by Tri-Star Enterprise.