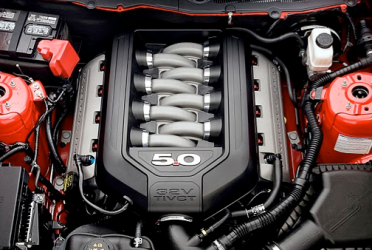 ** Update: Just to clarify were the photos came from.  They were posted by Burlappcars.com.  I found them via Twitter.  No embargo was broken on my part nor do I have any 2011 Mustang GT information anyway. **
Merry Christmas Mustang fans.  I came across two leaked photos of the 2011 Mustang GT on Twitter today and thought some of you would like to see them.  Gotta love the 5.0 badge front and center on the engine.  For those living under a rock the 2011 Mustang GT is coming with an all-new 5.0-liter motor with 412 horsepower and 390 lb-ft 0f torque.  More photos below.
The 5.0-liter motor will be an all-aluminum engine featuring iron cylinder sleeves, forged crankshaft, four-bolt main bearings, high-performance pistons and connecting rods.  Another feature of the engine is vertical intake ports and twin independent variable valve timing.  New tuned exhaust headers on the new engine will eliminate the need for aftermarket headers thus helping the engine to breathe better.  The 5.0-liter motor will be mated to a 6R80 six-speed automatic or MT82 six-speed manual transmission.
More details should arrive once the embargo lifts around the 28th, check back than.
Source: Burlappcars.com